Gissur Pétursson worked in the Icelandic Directorate of Labour for more than 20 years, but has moved on to become the top civil servant in the Ministry of Social Affairs and Children. The ministry has just changed to focus on four areas; children, housing, social insurance and the labour market.
The new ministry is based on the old Ministry of Social Affairs, but health care has now got its own ministry. The new ministry is also responsible for the housing labour markets. The ministry will  focus especially on the protection of children and children's issues. That is why the government minister, Ásmundur Einar Daðason, has been given the new title of Minister for Social Affairs and Children.
Gissur Pétursson says the change was made particularly with children's welfare in mind. 
"This has never before been done here in Iceland. Now children have the highest priority in the ministry," points out Gissur Pétursson.
Gender equality issues have been moved to Prime Minister Katrín Jakobsdóttir's office, both because she is particularly interested in that area and in order to allow the Ministry of Social Affairs and Children to better focus on the protection of children and on housing issues.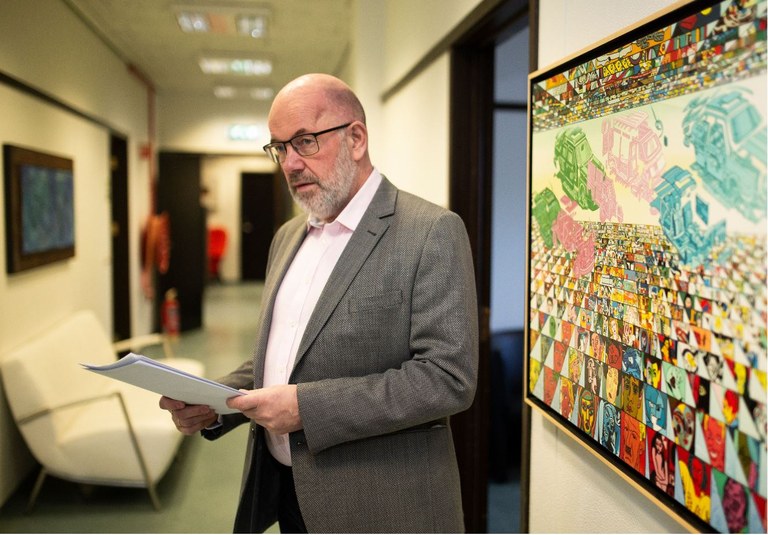 Gissur Petúrssson jokes that he brought a thermometer and a yardstick with him, in case the employees would complain about their offices. 
The new Permanent Secretary is also a passionate proponent of the Nordic region, and has participated in Nordic cooperation for many years. He is a familiar face for those who have been working with labour market issues in the Nordics. He knows the labour market politics well after 20 years as head of the Directorate of Labour, Vinnumálastofnun.
ILO's Director-General to Reykjavík
A lot will be happening in Iceland this year. On the 3rd of April the Nordic ministers' meeting will be held there, and after that Iceland will be hosting a conference on the future of work, between the 4th and 5th of April. The Director-General for the ILO, Guy Ryder, will take part in the conference. The preparations have taken a lot of time, and the ministry is excited about the programme.
"I'm still most familiar with the questions regarding the labour market. For people working with employment services, anything that has to do with labour market issues is the highlight of the year," he says.
This autumn the ministry will also host a Nordic conference together with the Administration of Occupational Safety and Health in Iceland (Vinnueftirlitið) and the Directorate of Labour (Vinnumálastofnun). New reports and the cooperation with other Nordic authorities and institutions will be debated during the conference.
A special anti-crime unit
Iceland is fighting social dumping, an issue which will also be discussed at the conference in early April. Iceland has received many foreign workers in recent years. They should of course enjoy the same rights as Icelandic workers, but it has not always been that simple.
Social dumping is a major problem. The Ministry of Social Affairs and the social partners have a joint working group which recently presented a proposal for the foundation of a special unit which will investigate labour market crime. Gissur Pétursson likes the proposal.
"Other countries have special labour market units, so we can too. This proposal makes clear our determination and our low tolerance towards the crimes being committed. We must do something about it right away. I therefore understand very well how such ideas can emerge," comments Gissur. 
"Most employers are honest. But there is a minority of problematic ones who ruin it for everyone else," he says.
In Iceland it has proven difficult to stop companies that break employment law. The country works closely with Norway on labour market issues, and Gissur is happy about how quickly and nicely the leadership at Norwegian welfare authority NAV reacted when Iceland got in touch. 
"Not long ago we called NAV in Norway to ask whether their representative could meet us at short notice. There was no problem. He just came, gave a lecture and returned home. This is invaluable, and shows the enormous will for cooperation you find in Norway," explains Gissur.
Psychological problems on the rise
Iceland is experiencing a sharp increase in the number of people taking early retirement. Many hardly have time to start working before they retire early. Something is leading to ill health in the population, and many take early retirement. Over the years, Iceland has created a working life-centred rehabilitation system. Gissur believes it is important to maintain that system and keep developing it.   
"We must also do something about the enormous number of people falling outside of the labour market because of ill health and early retirement. A lot of this is because of psychological problems, so we offer rehabilitation for people who suffer from psychological ill health," he says.
The number of people with psychological problems has been rising sharply, and not only in Iceland. Other European countries are also struggling to fix the problem. The Ministry of Social Affairs works together with the early retirement association and the social partners. The idea is to apply a tool which measures people's ability to work.
"There is a lot of suspicion and fear of change among the interest organisations. We have working groups looking at this, also in parliament. We hope to see results this spring."
Believes in peace in the labour market
Iceland's perhaps largest problem right now is the housing crisis and housing costs. The social partners are in the process of negotiating a new collective agreement, and housing issues have become part of that debate. The hope is that the government will take action when it comes to the housing issues, to facilitate an agreement. 
Gissur Pétursson is optimistic ahead of this spring's negotiations. He thinks the parties will manage to reach a collective agreement without a fierce fight in the labour market. He believes that everybody understands that they carry a big responsibility for avoiding labour market unrest. 
"There are many things that can contribute to negotiations that end in a good result for the future. It is important to agree on measures which can lead to a better future for the population, beyond simply increasing wages," he says.
"This is important for the continuation of the economic growth which has been very good for Iceland."