A day trip to Britain's famous Blackpool seaside resort left me wondering whether I'd taken a wrong turning and ended up in Poland. In every chip shop, every café, every gaming arcade and at every amusement ride I was served by a Marek, an Ewa or a Dariuz.
Traditionally, England doesn't come more English than Blackpool. The seaside resort was born as the holiday resort of choice for factory workers of northern England at the start of the 20th century. Its streets are still filled with fish and chips shops, greasy spoon cafes and amusement arcades.
But as most people here now can afford a holiday in Southern Europe, Blackpool has for some time struggled financially.
It was not surprising then, that the cheap and ultra-flexible labour force from the new EU member states was seen as somewhat of a godsend in 2004. Today, some estimates show nearly 10% of the entire Blackpool population is Polish - at least over the summer holiday period.
I remember well an Oslo press conference two years ago, when the then centre-right government of Norway laid out their plans to restrict labour immigration from new EU countries into Norway.
The big question then was what impact a possible influx of cheap labour would have on the national economy and the native workforce.
Watching Britain today gives very clear answers to that question. Britain was one of only three EU countries to allow unrestricted access for workers from new EU member states in 2004 (along with Sweden and Ireland).
The government estimated 13.000 labour immigrants from Eastern Europe would arrive every year. They got it seriously wrong. The latest figures show some 600.000 have arrived since the enlargement, most of them from Poland.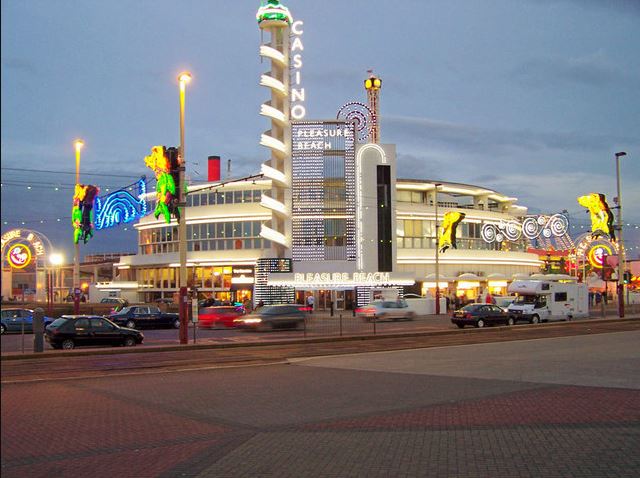 Art Deco entrance to Blackpool Pleasure Beach . Photo: Michael Garfield /  CC BY-SA 2.0
Maria Klosinska is a student of social anthropology in Poland, but works in a Blackpool bar over the summer months. She takes home the minimum wage, £5,05 an hour - four times what she could have made at home. Work, she says, is not hard to find. Local English workers tend to shy away from these low paid jobs. Blackpool employers told me they far preferred Polish workers for their skills, work ethics and customer awareness. They're simply far more polite and hard working than the locals, a hotel manager said.
This autumn the British government has admitted it got the figures wrong when estimating the influx of Eastern European workers in the wake of the EU enlargement. But it has no regrets over its decision to open UK's borders to labour immigrants. The word from both Downing Street and business leaders is that the super-flexible and cheap Eastern European labour force has been essential to the growth of the British economy. Some say these workers have contributed as much as £2.5 billion a year.
But not all here are rejoicing. Trade unions warn of a general lowering of labour standards. Already reduced to a shadow of their former selves by the Thatcher years, unions now struggle to enlist the newly arrived workers, who they say are too willing to accept low pay and bad working conditions. That in turn makes it even harder to negotiate better terms and conditions for all workers here.
And some commentators warn that many of the Polish workers who are here now, will sooner or later want to return to their home country. That will leave this country with a huge gap in the labour market, as well as a native work force ill-equipped and unwilling to do the jobs that are left behind.
It's an open question what will then happen to Blackpool. One night club owner told me the city would grind to a halt without its Polish work force. Perhaps Blackpool and other cities like it must put their trust in new workers from Bulgaria and Romania, when the two countries join the EU next year.
Lars Bevanger is a  Norwegian freelance journalist, working in Manchester, UK