It has been an eventful month for the Icelandic labour market. On the employer's side, representatives of smaller companies formally founded a new association to further their interests, since they believe that they are not properly looked after elsewhere. At the same time, the chairman of one of the largest trade unions in the country resigned after accusations from union employees of bullying.
But let us start with the latest addition on the employees' side. Atvinnufjelagið (the job association) was formally founded in October. According to its webpage, the purpose is to become a clear voice for smaller and medium-sized companies. Atvinnufjelagið intends to make their own collective agreements for companies they represent and guarantee that each company has one vote within the association.
Arna Þorsteinsdóttir and Ómar Pálmason are two of eight members of the preparatory board. Þorsteinsdóttir is a co-owner of the advertising company Sahara and Palmason is the owner of the car inspection company Adalskodun. They say that the main reason for starting the association is a lack of diversity.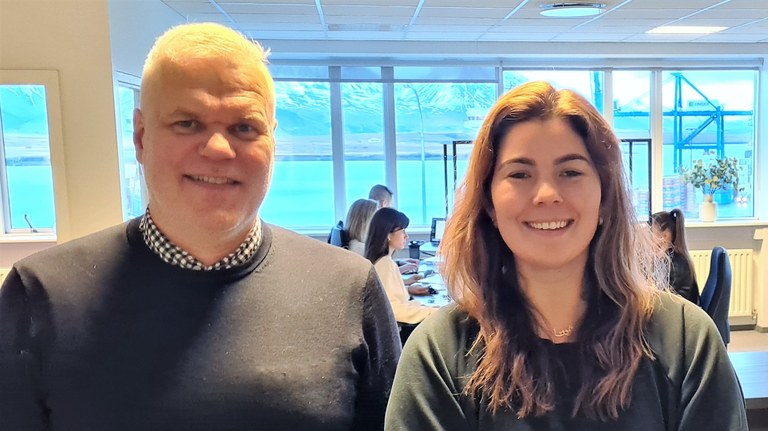 Arna Þorsteinsdóttir og Ómar Pálmason. Foto: Hallgrímur Indriðason.
"Smaller and medium-sized companies, and also independent employers, need someone to represent their interest on common ground. We started discussing these matters, more people joined in and then we thought: We have to do something!" Þorsteinsdóttir says. 
Before launching the new association, the board sent a survey to 1,200 firms. Just over half of them replied, and around 70% thought that forming a new association was necessary. Pálmason says that in the Confederation of Icelandic Enterprise (Samtök atvinnulífsins), the main interest group for Icelandic companies, the largest control everything. 
"They control which interests are being protected within the confederation. There is nothing wrong with that as such. But this confederation has not focused on the smaller companies. Their environment is very different from the bigger ones. One example is that salaries represent 60 – 70% of the cost, which is much higher than in the bigger companies, and they don't have huge profits."
One vote no matter the size
Þorsteinsdóttir adds that in the Confederation of Icelandic Enterprise everyone's voting rights are based on income. The bigger the company, the more votes you have, the more weight you carry. In the new association, this will be different.
"Here it will be one company, one vote. So, no matter how big your company is, you always get your vote, just like everybody else. That's something Samtök atvinnulífsins can't offer because of the way they work."
Pálmason says that even though the companies' backgrounds are very different, their interests are largely the same. The issues they want to put on the agenda are many, but he mentions a few examples. 
"We want changes in taxation. For example, a self-employed painter pays the same amount in radio fees as a big company with millions in profit. Why isn't that fee, and other similar fees, income-based? We want a level playing field when it comes to taxes. Another example: A self-employed person pays part of his own salary to the fund for unemployment benefits. But if he goes bankrupt he does not have the right to get benefits since he was running a business."
Atvinnufjelagið has also announced that they want to make their own collective agreements instead of the ones Samtök avinnulífsins have. Þorsteinsdóttir says these contracts are not beneficial to the smaller companies.
"We want simpler agreements that the employers have time to read. Existing agreements are sometimes over 100 pages long and lawyers sometimes disagree on how to interpret them."
Pálmason says that some parts of these agreements are not beneficial for the smaller companies, for example shorter working hours.
"Service companies can't simply close earlier or reduce their service. So the only option is to pay overtime."
No hierarchy
Atvinnufjelagið has started fairly well. Around 500 members are now registered. Even though its goal is to look out for the interests of smaller companies, there are no conditions on the size to become a member. 
"If you think the interests we want to represent are your interests as well, you are welcome to join," Þorsteinsdóttir says.
Þorsteinsdóttir says that the association is somewhere between an enterprise confederation and a labour union – but it really is neither. It will be up to the members which direction it will take.
"We want to do this with our members. They can have their say on what issues we should emphasise from the start and what will then come after that. We are still not sure where we're heading – we've just created the foundation."
The first annual meeting will be held next spring and then the first formal board will be selected. 
"But our goal is not for the board to be some kind of hierarchy. We want the members to participate directly."
Þorsteinsdóttir expects that the main test will be next year when the current collective agreements expire.
"Then we will see how things will go. But our goal is not to be in a competition with anyone or to be a threat. We simply want to improve our situation and protect the interests that are important to us." 
Trade union controversy
On the labour union side, there have also been some changes. Sólveig Anna Jónsdóttir, who has been chair of Efling since 2017, resigned from that position on 31 October. With more than 30,000 members, Efling is one of the largest unions in Iceland representing mostly low-skill workers in the Reykjavik area.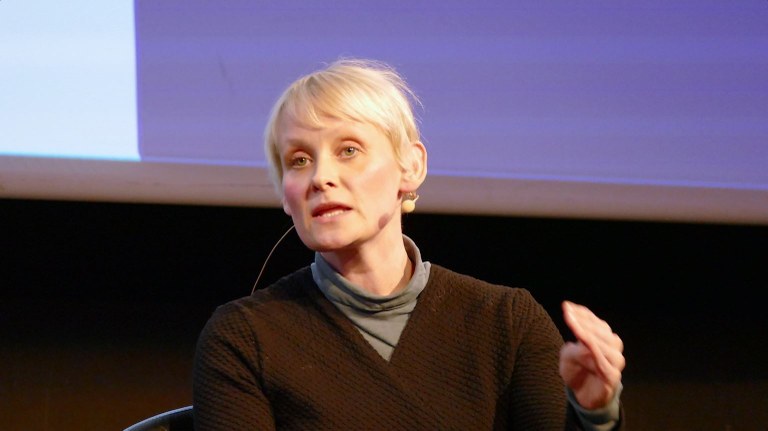 Sólveig Anna Jónsdóttir, som ledet fagforbundet Efling, har trukket seg på grunn av en konflikt med sine ansatte. Foto: Björn Lindahl.
In a statement on her Facebook page, Sólveig Anna Jónsdóttir said that her resignation was connected to a written complaint from union staff delegates in June, claiming she had broken collective agreements by laying off staff without notice and that she even had a special hit-list of employees. This had made staff feel very uncomfortable, according to the statement.
She thought the complaints had been dealt with until it was covered in the media last month. In the statement, she said she held a meeting with staff on Friday 29 October. 
"I told the staff that there were two options. Either something would come from them in writing that would take back these demeaning descriptions from the written complaint […] or I would resign as chairman." 
The result was the latter. The Efling CEO, Viðar Þorsteinsson, resigned as well, supporting Jónsdóttir's cause. She said that it was hard to accept that the Efling staff had pushed her away from the job as chairman.
Jónsdóttir was a controversial and outspoken union leader. During her tenure, two strikes were called. She is considered to have played a significant part in the making of the quality of life contract between the enterprises and the government in 2019, which has contributed to a stable economic environment. 
She also gave special attention to foreign workers and the number of foreign-born board members increased. More than 40% of Efling's members are foreign workers, up from 5% 20 years ago.
Most of the board has expressed support for Jónsdóttir as chair, but also for her decision to resign. The vice chair, Agnieszka Ewa Ziółkowska, has now taken over as chairman and is the first person of foreign origin to lead an Icelandic labour union. 
Drífa Snaedal, the chair of The Icelandic Confederation of Labour, where Jónsdóttir was second vice chair, wrote in an article on the confederation's website that Jónsdóttir had played a big part in getting good collective agreements for those with the lowest salaries. 
But she also said that all this had brought attention to the situation that union staff are in, especially the delegates. 
"The delegates have to speak on behalf of the staff, which can be hard as delegates all over the country know well. It's no coincidence that the delegates are protected by law because they can be caught between a rock and a hard place when difficult issues come up at the workplace," Snaedal wrote.