Women in the Nordic countries participate in the labour market to a greater degree than in any other country, and there are many good examples to be found here. But some glass ceilings remain unbroken, concluded the conference "Global Dialogue on Gender in the World of Work" which was held in Helsinki in late November.
"One important reason to have this dialogue is to look at the Nordic model and see what can be copied in other parts of the world. I am aware that there are different economic and political conditions, but you could still learn from good examples and perhaps use them to create pilot projects," says Susan Maybud, senior gender specialist at the International Labour Organisation (ILO) in the throng outside the conference hall.
It is late November in central Helsinki. Government ministers from all of the Nordic countries and autonomous areas have gathered in the parliament building together with ILO representatives, researchers and the social partners, for the first "Global Dialogue on Gender in the World of Work", an event jointly organised by the Nordic Council of Ministers and the ILO.
What is the state of women's participation and conditions in the labour market? Where have the Nordic countries got to, compared to other parts of the world? And which challenges are on the agenda, including for those countries which are considered to be the most gender equal? This is one of the dialogues which the ILO is helping organise in the run-up to its centenary celebrations in 2019, and it is also part of their focus on the future of work.
A long tradition
The ILO's Susan Maybud considers the Nordic countries to be trailblazers, or moral authorities, when it comes to women's participation in the labour market, and as a result there are many examples to be highlighted. Swedish women were participating even when the ILO was founded 98 years ago, and there was awareness very early on that for women to be included in the labour market, you needed to have activities and engagement on many levels; politically, with the social partners and in research. 
It is also important that gender equality becomes an issue which gets the support from men, which is the case in the Nordic countries to a large degree, she points out. Nobody can achieve a gender equal labour market on their own.
"Nobody can achieve progress through research alone, or through good policies alone. You need everybody to cooperate – the social partners, politicians and researchers," says Susan Maybud.
There are still things left to do in order to improve gender equality in the Nordic labour markets; the wage gap and men's willingness to take parental leave for instance. But she has also noticed a tendency to be humble in the Nordic countries which means we often don't brag about what we do well.
"There is a modesty which perhaps keep you in check, which I like a lot. In the ILO, however, we have no problem saying that you are doing well, and we can be a platform to showcase your good examples," says Susan Maybud.
Nordic men want working women
The Nordic countries are no doubt in a good position when it comes to women's participation in the labour market. The fact that women have jobs is more accepted in the Nordic countries than in other countries. In a recent survey by British Gallup, "Gender equality in the world of works: Nordic Perspectives", both men and women were asked whether they wanted paid work, to stay and home with the children or whether they would prefer to do both? 
The answers show that the Nordic countries stand out, especially compared to Eastern European countries. 88 percent of Nordic female respondents wanted to either work or combine work with children, while just nine percent would contemplate staying at home. In Eastern European countries, one in four women wanted to be a housewife. The answers from the men show even more pronounced differences. Just four percent of Nordic men wanted their women to stay at home to look after children and the household, while 31 percent of Eastern European male respondents said the same.
Even though one in four women in Eastern Europe want to be housewives, this bride is a professional photographer 
"Also, a majority of Nordic men do not consider themselves to be the family's main earner. This is a strong result from our survey, and shows that women play a considerable role in Nordic societies," says Andrew Rzepa, who led the Gallup survey.
The same survey also underlines the importance of work. Citizens in the Nordic countries experience the highest levels of wellbeing in the world, where 65 percent of the respondents say they have a good life. One in three say they struggle, however, while two percent say they are suffering.
"The fact that women have been given the chance to work to such a degree has resulted in better societies. You value life more. We also know that long term unemployment has a bigger negative impact on people's wellbeing than when a partner dies," says Andrew Rzepa. 
Many glass ceilings still to break
Yet even if the Nordic countries have come a long way, there are still many glass ceilings to be broken. This was also the theme during the one and a half day long dialogue, which mainly focused on two challenges – combining work and family life, and Nordic women's struggle to reach the highest positions of power. 
There were many examples of both problems and solutions. Women still take most of the parental leave in the Nordic countries, but there are many ideas around how you make men take a greater share of the leave. Iceland has introduced a system where a certain number of months are earmarked the father, and before the economic crisis hit there was a marked increase in the willingness among fathers to take parental leave. After the crisis, the fathers have been taking less leave.
Finland is currently reviewing its parental leave policies. Greenland, which has set working hours for all between 8am and 5pm, wants to introduce more flexible working hours which are easier to combine with having small children. There is also a will to improve parental leave, considered to be one way of tempting back the many young people who have moved to Denmark to study and who stay there. 
The Nordic countries' challenges were also contrasted by reports from the Philippines, Egypt, Mongolia, Togo and Bangladesh. Several of the developing countries are working with large informal sectors, and where do you start then? This is a challenge which is growing in the Nordic countries too, as more and more people become self employed, noted the Finnish minister Jari Lindström.
Parental leave and masculinity is compatible
Many of the participating non-Nordic countries lack the social security systems which play such an important role for female labour market participation. Yet work is underway, and in Bangladesh for instance a lot has happened in a very short amount of time, says Sabrina Islam. She is the managing director for the Lily Apparels Ltd. company, and also on the board of the SAARC Business Association of Home Based Workers.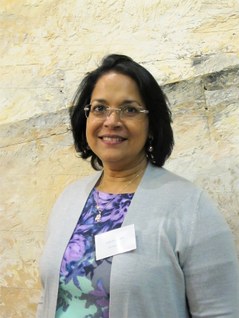 Many Bangladeshi women work in the textile industry, which gives them a freedom which was unthinkable not long ago. They used to face a predetermined life in the cities starting families at an early age with many children. Today it is possible for many to live on their own and make their own money. Sabrina Islam has been given many ideas from listening to examples and by looking at the link between social security systems and gender equality. She has also listened with interest to how men engage with children. Bangladesh still has some way to go in that respect, she says. 
One example mentioned during the seminar has created some ideas. It comes from Sweden and was a poster campaign featuring the big wrestler HoaHoa holding a little baby in his big arms. The idea was to show that parental leave and masculinity is perfectly compatible. 
"I think we might be able to do something similar in Bangladesh in order to change people's perception of parenthood. For instance by using some of our famous and worshipped cricket players or pop musicians in a similar picture. It takes time to change a way of thinking and a culture, but this could be a start," says Sabrina Islam.
Creating a gender equal labour market is not necessarily a question of money, underlined the ILO's Laura Addati. 
"The Nordic countries started early. Could they afford it or did they choose to do it? All countries can afford this. It is a challenge, but it is an investment which pays off," she said.
Legislation influences people's choices
One challenge facing all of the Nordic countries is to reduce the gender segregated labour market.
"The segregation in the labour market, as in different occupations for women and men, is one of the key issues for this conference. Men and women make different choices when it comes to parental leave, education and jobs and careers. There are reasons for this, but are they good and is this they way we want things to be? Legislation and rules play a big role for how people choose," said Anders Geertsen from the Nordic Council of Ministers as he summed up the conference's first afternoon.
The tripartite cooperation is a common thread in the Nordic countries. Politicians have passed legislation and done what they can to create opportunities for women to take part in working life, for instance by providing care provisions for children and older people, and through legislation and general measures like parental allowance. 
"The Nordic social partners take the initiative for gender equality and equal pay themselves, and most companies have trade union representatives on their boards. Trust is also key, that is the very foundation which means citizens know they get something back for the taxes they pay," said state secretary Christl Kvam from Norway.
Few women in the top
Another challenge facing the Nordic countries is that women do not reach top positions of power. Here too, many are looking for solutions 
Minister Jari Lindström from Finland explained how state owned companies must have 40 percent women on their boards, and they work with this in an EU funded project in order to exchange experiences and find new knowledge.
"Companies which have a mixed gender board have proven very successful, and companies have been very active in this," said Jari Lindström. 
Norway passed legislation for gender equal board rooms as early as in 2006. This has prompted a change, yet it has not lead to more female top leaders. When women reach a high position in a company it is often within the so-called softer areas, like human resources and communication, but not within areas which are directly linked to economic results, said state secretary Christl Kvam. 
She believes that one way of getting rid of the gender segregated labour market is to encourage young people to make unconventional choices, which does not only mean that women should study technology, but also that young men should you choose jobs in the care sector.
"Norway is top when it comes to women's participation in the labour market. Family life and female leadership are intimately linked. You must be able to do both. That's why the Nordic region has done so well. We have seen the link and created unique opportunities for  combining family life and work," she said.
Progress cannot be taken for granted
After one and a half days of lively debate and knowledge exchange, the ILO's Shauna Olney hesitantly summed up the very first dialogue on gender in the labour market. Her doubts were linked to summing up something which is constantly changing.
"Gender issues are integral to Nordic societies, and you have been trailblazers. This has not happened by chance, it was a choice, you took a risk and showed willing to make controversial choices. 
"For instance the earmarked months the parental leave in Iceland. We saw how fathers lost some of their willingness to take parental leave after the economic crisis, which is something we could learn from. What we achieve is fragile and progress cannot be taken for granted," said Shauna Olney.