Denmark's new government has talked about it, the Finnish presidency of the Nordic Council of Ministers has done something about it and when Norway takes over the presidency there will be increased attention from the Nordic prime ministers, Nordic parliamentarians and not least the responsible ministers. All wish to improve free movement within the Nordic region.
"We're now putting even more emphasis on Nordic cooperation," commented Denmark's Prime Minister Helle Thorning-Schmidt at the Nordic prime ministers' meeting during the recent Nordic Council of Ministers' session.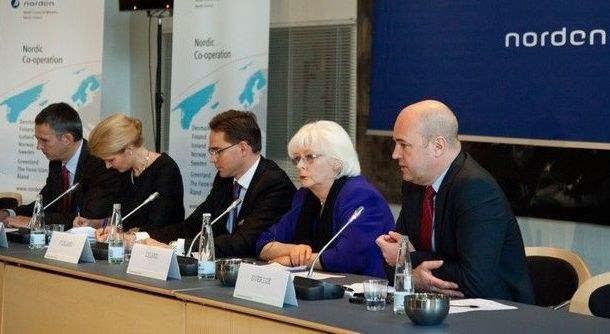 Her government's programme states that Denmark is stronger when it chooses to stand with the other Nordic countries. It also says that the Danish government wishes to strengthen free movement within the Nordic region. 
"We share a vision of a borderless Nordic region," said Finland's Prime Minister Jyrki Karainen, who chaired the prime minsters' press conference. 
He highlighted the right for both individuals to move freely across borders without obstacles, and businesses' right to operate across Nordic borders without having to deal with red tape which hinders competition.   
"We all need to commit to this. Preventative work is the critical point here. We need better coordination especially when it comes to national implementation of EU regulations," said Jyrki Karainen on behalf of the gathered prime ministers, and added: 13 border obstacles have been removed over the past year.
Jyrki and Jóhanna
We do not know whether the prime ministers heard the story, but the couple Jyrki and Jóhanna were the talk of the day during the Nordic Council. It is a fictitious tale about an ordinary family's life in a Nordic region with borders, and was presented and debated at a seminar organised by the information service Hello Norden on the day before the opening of the Nordic Council. The couple was later the focus of attention both from the stage and from the audience: The story begins when 23 year old Jyrki from Finland and 24 year old Jóhanna from Iceland meet in Oslo. Later we follow them through all of life's stages including child birth and education, jobs, illness and death. 
It is a story about how they meet new obstacles all the time when they move between the Nordic countries and need various forms of support over the years; student grants, child benefits, recognition of their education, unemployment benefits, sickness benefits, rehabilitation and pensions. The story of Jyrki and Jóhanna ends with her being a widow in Arvika with no close relatives and four children living in different countries. Her youngest daughter and grandchild live in Reykjavik, and she wants to move there. But the municipalities cannot agree on who should pay her removal costs and for her stay at the Reykjavik old people's home. Jóhanna stays in Arvika. 
Hello Norden's Jyrki and Jóhanna story illustrates how border obstacles can impact on everyday life for those who wish to take the open Nordic region seriously.
Cornerstone
Free movement is a cornerstone to Nordic cooperation. Increased mobility between the countries has led to more focus on border obstacles. The Nordic cooperation ministers were urged at the prime ministerial meeting in Punkaharju in June 2007 to do something, and decided to establish the Freedom of Movement Forum. The Forum was set up in 2008 and is headed by Ole Norrback with one representative from each of the countries.
"The story of Jyrki and Jóhanna shows how border obstacles have been identified. The task now is to do something about them," said Denmark's former minister of cooperation Karen Ellemann during the debate which followed.
Reporting to the Nordic Council, Ole Norrback underlined the importance of removing border obstacles when it comes to securing growth.
"We cannot afford to have unnecessary border obstacles in the Nordic region."
On 30 November the Freedom of Movement Forum will host the conference "Why the Nordic Region cannot afford obstacles to freedom of movement", which focuses on the social costs of border obstacles. 
"The gap between words and action is still far too great," said Ole Norrback and suggested a time frame for the work, while encouraging politicians to act: 
"You have the power - use it!"
A topic
"Border obstacles have become a topic," said Bjarne Mørk Eidem from the Freedom of Movement Forum, and commented on the plenary debate:
"There was temperature, and when we get temperature in a debate there is a much better chance that something might happen. I have been doing this for a very long time and what is different now is that there is far more talking about border obstacles. There is engagement from ministers and parliamentarians both. If we could get a debate on border obstacles in all Nordic parliaments on one single day this spring during Nordic Council's 60th anniversary, which the presidency of the Nordic Council is working towards, this could turn out very nicely."
Presidency
The main theme for Norway's 2012 presidency of the Nordic Council of Ministers is the development of a sustainable welfare state in a Nordic perspective. One of the programme's main points is "Work and sustainable welfare", another is "Green growth, knowledge and innovation" and a third is "Nordic affinity" with focus on language, equality and border obstacles. 
The programme states that "The Presidency will present reports about obstacles to cross-border mobility in the labour market and in terms of social provision, and this will form a solid basis for future work on the issue."
Norway's Minister for Cooperation Rigmor Aasrud is ready to lift the border obstacle issue high onto the agenda when Norway takes on the presidency. She praises the Freedom of Movement Forum for their work:
"I think we have managed to solve quite a lot of obstacles lately because of their work," she says, but warns it is not going to be possible to get rid of all border obstacles:
"I don't think it is technically possible to avoid some differences in policies between the countries, but there are some border obstacles of a more technical variety that we need to work with and to me it is important not to implement EU directives in different ways, which can create new border obstacles."
Rigmor Aasrud especially highlights the work being done by the labour ministers' working group:
"They have really rolled their sleeves up and tackled many important issues. And it is within the labour market and social provisions we find the most complicated issues," she says.