Nearly 800. That is how many of Riga's medical students come from the Nordic region's largest country. The Nordic Labour Journal went to meet one of them.
This far but no further. Linnéa Zargarian, a medical student at the public Rīga Stradiņš University, and the writer from the Nordic Labour Journal cannot move beyond this point. 
Along the walls under tall windows, chairs are bolted to the floor. Behind us is the tall and narrow wooden gate we have just stepped through. In front of us, a turnstile with an electronic pass system – an anachronistic detail in an otherwise archaic environment. 
"This is where we remove our outerwear and don the white laboratory coats we brought along. They must be clean and ironed. We are not allowed to pass without them," explains Linnéa Zargarian.
I get ready to take a photo with my mobile but a voice briskly tells me off. It comes from a high landing on the other side of the barrier. A woman emerges. She is unhappy with my presence. I put away my mobile and we go outside, around the corner to the large garden behind the building and conveniently find a bench and table in the shade. It is hot in the Latvian capital on this day in June. Except for a few cleaners on their break sitting at another table, we are the only ones here. 
"Most of this term's exams are over and many students have already gone home," says Linnéa Zargarian. She has one exam left before taking a break from her theory studies.
From animals to humans
How did she end up in Riga? It turns out that for her – like for many upper secondary school students in Sweden – the Prao work experience programme would determine her choice of education. 
"I had decided to become a vet. But when I failed to get a Prao space at a veterinary clinic, my godmother intervened. She is the head nurse at one of Stockholm's hospitals and I got a placement there at the surgical urology department. After that, I made up my mind. This is what I want to do. Working in the health sector and becoming a doctor."
Three alternatives
A few years later, it was time for Linnéa Zargarian to apply for medical school. Her grades from the science high school program were not enough to enter the medical program in Sweden
"I realised I had three alternatives. The university aptitude test is held only twice a year, and studying for an improved grade would take time. So I started looking into the possibility of studying medicine abroad since I was keen to get going."
A family friend was studying medicine in Riga and was encouraging and assuring. Linnéa Zargarian herself has no links to Latvia and had never visited the country. But her mother had and she would love to return to the Latvian capital.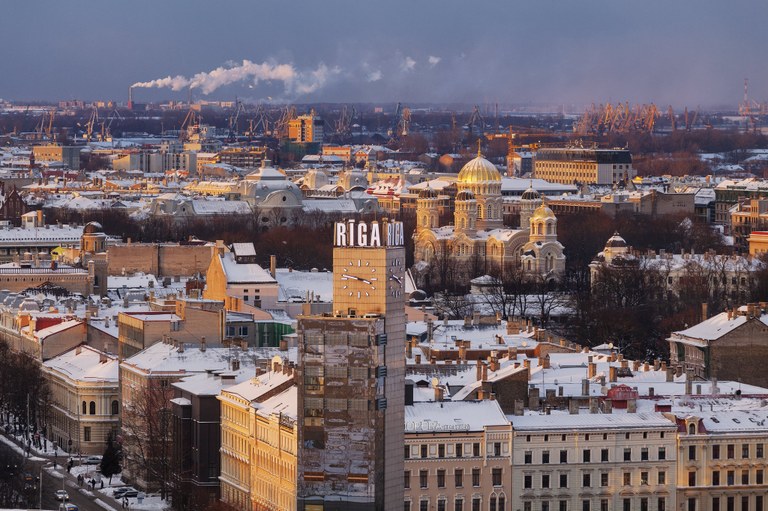 Riga in winter. Photo: Reinis Hofmanis
"She brought me here on a cold winter weekend. I fell in love with the city and could picture living here. I spent my final year of upper secondary education at the Swedish School in Brussels, so I knew that living abroad was not a problem. I did, however, wonder what kind of education I was letting myself in for. But my parents were very supportive and said go for it! You could always leave if it doesn't live up to your expectations." 
Linnéa Zargarian was accepted to study medicine in Riga on her first attempt and started in the autumn of 2019.
In order to be accepted, you need high grades from upper secondary education, references and a covering letter explaining your motivation, she says and refers to the EduPlanet organisation that helps Swedish students with the process of applying and settling in.
Loan and summer job
The Swedish Board of Student Finance (CSN) offers student grants and loans for studies it considers having an "acceptable standard". The amount is the same regardless of where in the world you study, and students abroad can also apply for extra student finance. 
"According to the contract I wrote with the university when I started, I pay around €12,000 per academic year, but I know that the student fee has increased somewhat. You can borrow from CSN to make up for some of this, but it only covers around half. So I always have to work in the summer holidays to earn money," says Linnéa Zargarian.
This year she works for a couple of months at Stockholm's Södersjukhuset, which has the largest emergency department in the Nordic region. Linnéa Zargarian will work as an "assistant carer" with responsibilities similar to those of an assistant nurse.
"We receive a lot of serious cases so I will learn a whole lot."
When she returns later this autumn, she starts her ninth term out of a total of twelve. After that, she will start her BT, short for bastjänstgöring which is a basic service period as a junior doctor.
"When I graduate from here in 2025, I and my three fellow Swedish medical students will do our BT in Sweden just like those who have studied medicine there. It can be difficult to find a space in the Stockholm area where my childhood home is, but I am happy to do it anywhere in Sweden," says Linnéa Zargarian. 
Body after body
We are sat at the bottom of the garden which is full of shrubs and edged with flowers. From here, the distance to the anatomy building is the length of a tennis court. It nevertheless dominates my field of view when I look around. The building has history. It was constructed in the late 1870s as a Greek Orthodox seminary. Today it is the university's institute of anatomy and anthropology, described as "the place where the dead help the living". 
"The building is filled with mystery and locked doors, and we students sometimes wonder a little sardonically how many bodies are really in there. We studied anatomy during the first four semesters and got to dissect many dead people of various ages."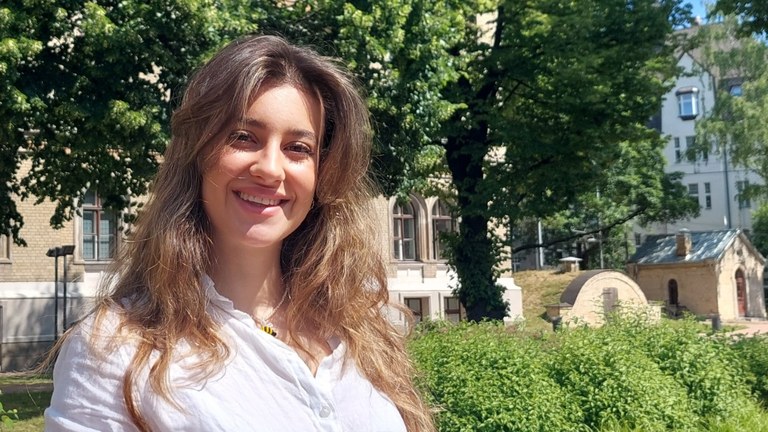 Linnéa Zargarian in front of the anatomy building.
And then Linnéa Zargarian tells the story of how at the beginning of her first semester she and some fellow students were reading at Anatomikum in a room with glass walls when a gurney with a body was wheeled into the next room.
"Suddenly they opened up the body's chest like a hatch in order to study the internal organs. I don't think new students in Sweden would ever get to experience something like that. I have heard from students at Karolinska Institutet that they prepare and can get support before seeing a dead human being. Here we are asked to be respectful, but that's it." 
Even better than expected
By now, Linnéa Zargarian is well used to dead people, and apart from this minor incident, she has many good things to say about her course. 
"All teaching is in English, it is very theory-heavy and complicated but I was prepared for that. The good thing is the number of lecturers. One lecturer has 13 students, and the lecturers are skilled and ambitious. Many of them are young and do just that little extra to ensure students succeed. We can talk to them if we have any questions."
Linnéa Zargarian says one of the advantages of studying in Riga is that accommodation is relatively cheap, as is travel between Riga and Stockholm. Also, you get more for your euro than for the Swedish krona.
"Although inflation is making everything more expensive now, it is still cheaper than in Stockholm to take a taxi, hire a car, cut your hair or get a facial."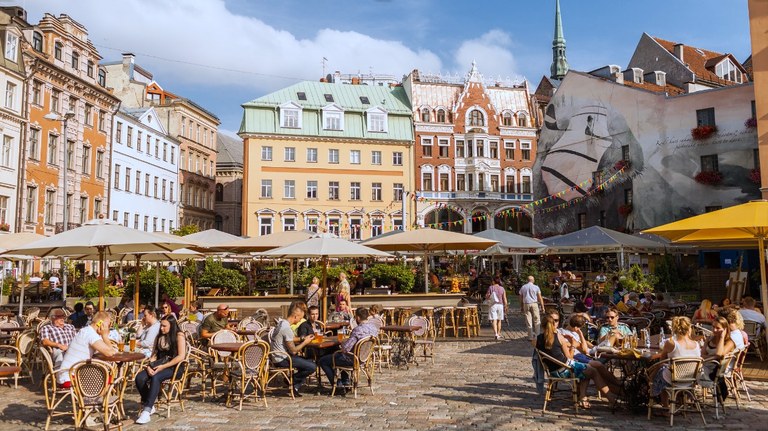 The cost of living is lower in Riga than in Sweden. This image is from Riga's old town. Photo: Ģirts Raģelis
In terms of negative things, she mentions language barriers when meeting non-English-speaking Latvians and Russians. 
"Some can be unfriendly when they hear me and my fellow students speaking Swedish on the bus, and they hush us. But many do speak English and they like talking to us Swedes. They are welcoming and happy that we are studying here," says Linnéa Zargarian.
The attitude you as a student bring to the country you study in also matters, she adds.
"Those who are happiest here have a positive attitude and understand that this is not Sweden. If you accept that this is a different country, you will have such a great time."
As a board member of the Riga office of the Swedish Medical Association Students Abroad, Linnéa Zargarian helps develop a platform that will create a sense of community for the city's Swedish students. 
"We have information meetings for new students, workshops and of course, gatherings. We also organise a doctor's pub and parties."
The Medical Association also offers information and advice for those who are considering studying in Latvia. 
The future
The cleaners at the neighbouring table have already left when I put my last question to Linnéa Zargarian. It is about the future. What are her plans?
"I actually don't know when it comes to choosing a speciality. When I ask those who have graduated as doctors, I get two types of answers. One is – think about what kind of life you want. Do you want a family, do you want to work weekends? The other – if are you looking for an adrenaline rush, go for emergency medical care." 
She adds that every new course is exciting and interesting. And she has a soft spot for dermatology and also gynaecology and obstetrics. 
The city's charm
Our interview is over. We stand up and walk to the front of the Anatomikum where we first met. Linnéa gets her bicycle and I say I am going back the way I came. Along the canal and the avenue with tall trees, whose foliage today filters the strong sunshine.
"You chose the prettiest area to saunter through in all of Riga. It really is a wonderful city!" says Linnéa Zargarian, and cycles off.