Amalie Schwartz is a newly qualified electrician and the only woman in a workplace with 80 people. She is busy changing that disparity every day at work and as an ambassador for the Boss Ladies project.
"It is not at all difficult for you to hire women. We can do the work just as well as men, and you don't have to set up women's-only barracks at the building site," says 22-year-old Amalie Schwartz and looks at the group of master builders who have gathered at a general meeting to discuss how to increase the number of women working in their businesses.
"But many of you employers in the building and construction industry believe women mean trouble on the construction sites. This is a myth. In my experience, workplaces with a mixed workforce have a better environment and atmosphere. Men even start fixing their hair before going to work," says Amalie Schwartz with a smile.
The master builders smile back and listen carefully. They are all men and subcontractors to the entrepreneur company BAM Denmark, which is currently constructing three new schools and an indoor swimming pool for the City of Copenhagen.
It is a big job. The project owner expects subcontractors to participate in today's general meeting, and they must include a certain number of apprentices in the projects – creating apprenticeships for students who are training to become craftsmen.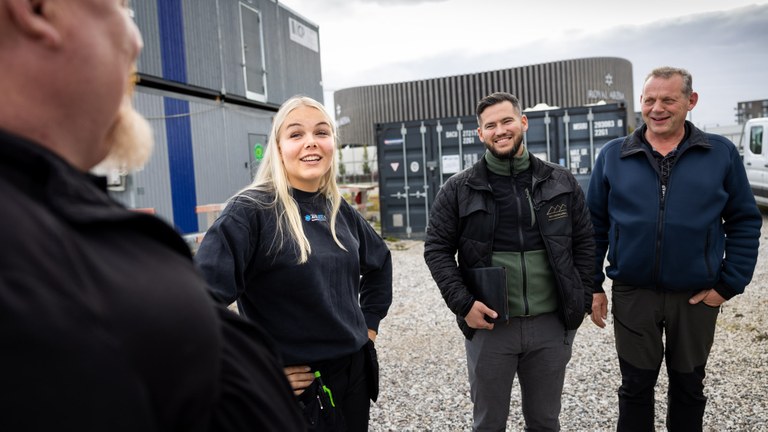 Amalie Schwartz in conversation with painter decorator Bo Bjerregaard and carpenter Christoffer Crillesen.
Some of these apprenticeships should of course go to girls, argues Amalie Schwartz. But it is difficult for a girl to get an apprenticeship, even though there is an acute lack of labour in the building and construction industry and it is struggling to find apprentices. 
"I had to be extremely tenacious before my current employer agreed to give me an apprenticeship. I spent several school holidays there as an intern and then spent a long time going every week to ask before I succeeded in securing an apprenticeship," she says.
"Girls should go to college"
The meeting is taking place in barracks in the Ørestad neighbourhood of Copenhagen – the headquarters for the management of the school and indoor swimming pool project. Amalie Schwartz's day job is at an electrician's company in Lolland, but she has said yes to driving to Copenhagen to represent the Boss Ladies' ambassador corps at the general meeting. 
The participating subcontractors have been invited by the project owner and the main entrepreneur BAM Denmark, whose project director Carina Dahl Philipsen wishes everyone welcome and expresses support for the work that is being done by Amalie Schwartz and Boss Ladies to get more women into the construction industry.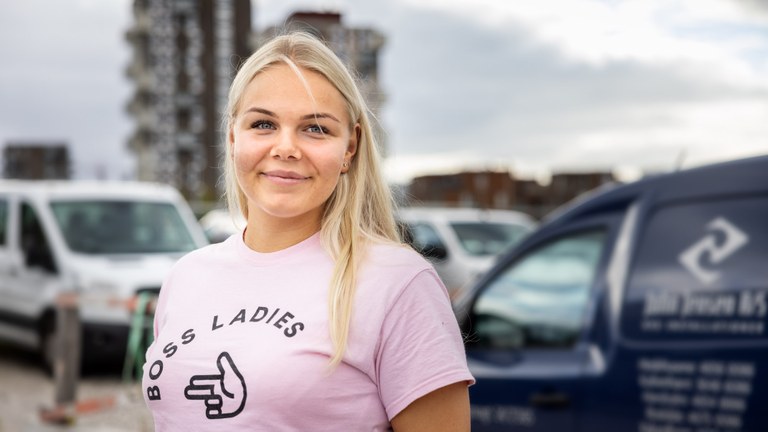 As a Boss Ladies ambassador Amalie Schwartz visits schools and construction sites to make it easier for girls to get into male occupations.
Amalie Schwartz is one of more than 350 female apprentices and fully trained female craftspeople who are ambassadors for the Boss Ladies project.
They visit elementary schools and technical colleges and meet parties in the construction industry to tell them about how girls can find exciting work in the construction business and in maritime and technical professions – which all traditionally attract mainly boys. They also tell employers about the benefits of choosing girls. 
Amalie Schwartz's personal experience is that girls who are tempted to get an education in construction or technical subjects are often asked to drop their ideas – both by their own families and friends and by careers advisors.
"I dropped out of college after six months because I couldn't sit still for long enough, and got pushback from both my family and the college careers advisor who told me I was too smart to become a craftsman."
She would face further obstacles to getting a craftsman education down the line. She was the only girl in her class at the technical college that trains craftsmen, and as she began her specialist training to be an electrician she met so much mistrust from both male teachers and other students that she almost broke down, she says.
"I was very close to giving up because everyone considered me to be less clever because I am a girl – despite getting top grades in every subject."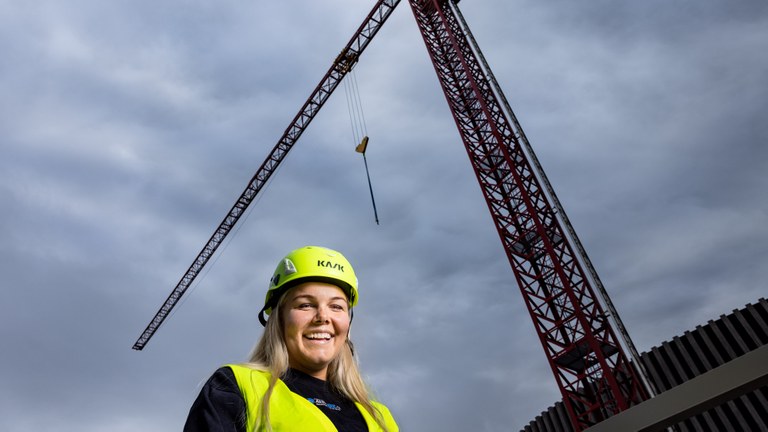 22-year-old Amalie Schwartz loves her job as a newly qualified electrician.
Luckily for Amalie Schwartz, she got unreserved support from the employer where she did her apprenticeship, and where she now has a permanent job. She is already in charge of her own construction projects. 
"But we need to give other girls an easier way to become craftsmen than the one I experienced," she points out.
One woman, many men
Fewer than 10 % of all workers in the building and construction industry are women and most of these work in service positions. That means female role models are scarce and it is one of the reasons why the non-profit organisation Divérs set up the Boss Ladies project four years ago, says Trine Bentsen, head of development at Divérs.
"Women in these trades were typically the only girl in technical college, the only female apprentice in the workplace and at the end of their education, they are often also the only female worker on the construction site and in the barracks. If there are other women, they typically work in the office in an admin job."
Boss Ladies' ambassadors work as role models and try to make more girls interested in craftsmanship and technical subjects. Boss Ladies also lobby the social partners on all levels to ease the way for women into these trades.
Expelled for sexism
Boss Ladies identify five main obstacles for getting more women into craftsmanship and technical trades, explains Trine Bentsen:
Girls are advised by families, schools and friends to choose ordinary college

They are overlooked by technical colleges

They face sexism from some teachers in technical college

It is very hard for them to find apprenticeships – some write 100 applications before succeeding

They face tough and sexist talk in many workplaces in the building and construction industry
One Boss Lady ambassador was told by a teacher at technical college that "I cannot concentrate on teaching when you stand there with sawdust on your breasts".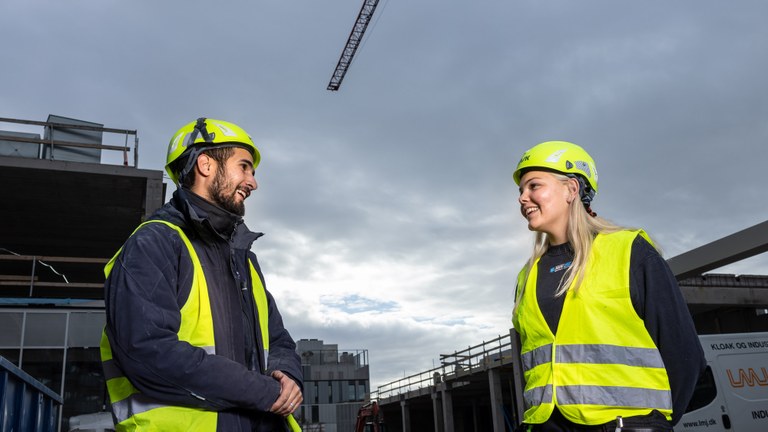 Two apprentices in conversation: Amalie Schwartz and Osama Louati who is training to be a ventilation technician.
Amalie Schwartz has also experienced sexism. Once, at a construction site where people from many contractors worked in tandem, she was spoken to in such rough language that she approached the foreman. One of the male builders from a different contractor had encouraged her to "spread her legs". 
"I chose to become a craftsman because I am relaxed about a direct and jokey tone of voice, and all my colleagues behave in a proper manner. But sometimes a male worker from a different company will speak out of line.
"We must come down hard on this kind of thing, and luckily that is what happened in the situation I mentioned. The worker concerned was immediately kicked out," says Amalie Schwartz. 
Bo Bjerregaard, the owner of decorating firm Malerfirmaet 2B which is working on one of the schools being built by the City of Copenhagen, agrees that the conversation on construction sites can be rough. He speaks up and says a third of his staff are women, and that in his experience having women there improves the way people talk to each other in the workplace.
"The decorating trade is the only one in the building and construction industry that has a high level of female employees because girls often want to be painter decorators. That makes it easy for me to hire women, and I do so gladly. 
"In my firm, there is less locker room chatter because I have female employees. On a big construction site they might meet a guy who tries to be funny, but because the atmosphere in our firm is good this kind of thing does not scare my female employees," says Bo Bjerregaard.
Female-friendly barracks
The City of Copenhagen is Denmark's largest municipality by far, and hence a major player in the building and construction industry. It takes an active role in efforts to attract more women to the industry. This can take the form of cooperation with and demands made of entrepreneurs, explains Jonas Rønsholt Rasmussen, CSR consultant at the City of Copenhagen.
He represents the project owner at the general meeting and gives a presentation where he invites the participating entrepreneurs to cooperate.
"The City of Copenhagen has not introduced female quotas, but we are asking the building and construction industry to work with us: Do you want to be part of creating the changes that are needed to get more women into the trade?" he asks the gathered entrepreneurs. 
He explains how the City of Copenhagen has entered into a strategic cooperation with Boss Ladies on a pilot project aimed at changing the culture in the building and construction industry.
One of the demands from the City will be to make sure barracks at municipal construction sites are living up to the newest standards. Older models cannot be locked from the inside when people are changing clothes or showering, and there are no refuse bags for sanitary products.
This follows one of the recommendations that The Danish Association for Responsible Construction (ARC) presented in a report in 2021 about the culture in the building and construction industry and women workers' welfare in the sector. 
The ARC represents more than 100 members working for a responsible building and construction industry. The association has published five points of advice for project owners who want to work toward more gender diversity among partners and suppliers:
Demand that staff use a good tone 

Health and safety plans should include the psychological work environment 

Have a place where workers can report perceived harassment

No posters of naked women in barracks 

Create communities on the construction site