This year's International Women's Day on 8 March is historic. The distribution of power in the Nordics has never been this equal, according to the Nordic Labour Journal's gender equality barometer, where women get a record 92 points.
Our barometer measures whether a man or a woman holds 24 different positions of power in each of the Nordic countries. A total of 200 points are given out. This means that for the Nordic combined, total gender equality is reached for these positions when women get 100 points.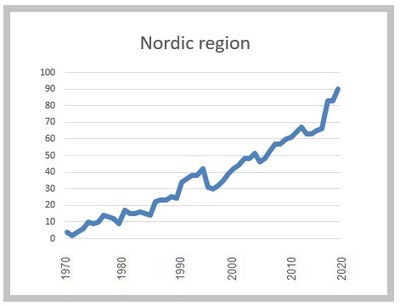 After two years of a stable 83 points, this year sees the total jump to 92 points. Sweden, which for the first time has reached 20 points, has therefore reached full gender equality according to our barometer. Previously the same has happened in Norway and Denmark. Here are this year's points:
International women's day on 8 March this year will be historic because by then, for the first time, women will have held all twelve government ministerial posts plus the post as prime minister in the period between 1970 and 2022. 
Sweden's first Prime Minister was also joined by Iceland's first female Minister of Food, Agriculture and Fisheries. 
All ministerial posts do not attract the same amount of points (see more in the fact box). Prime Ministers get 5 points, Finance Ministers 3, Foreign Ministers 2 and the rest get 1 point each. 
We also include other positions of power linked to working life and other positions that mirror power – within religion, defence, central banks, supreme courts and the police. Here, things are moving a bit slower. In the grid below, one X means that a woman has held that position at some time.  

Norway stands out here. The country has not only had women in most of the positions, but it has also had two female archbishops and two female heads of police. This year Norway could also have had a female head of its central bank since there were only two people in the running for the job: deputy head of the central bank Ida Wolden Bache and Jens Stoltenberg – the former Prime Minister and current NATO Secretary General. 
So far, no country has had a female commander-in-chief of the armed forces.
The Norwegian government has appointed Stoltenberg as head of the central bank, but he must serve out his term at NATO, which was extended earlier until the end of September this year in light of tensions with Russia. 
Ida Wolden Bache will serve as temporary head of the central bank until then. By 8 March she will have held the position for eight days. 
In the working life category, Finland stands out from the other Nordic countries. We include the heads of confederations of labour unions (LO), the largest confederations for white-collar workers and the confederations for academic unions.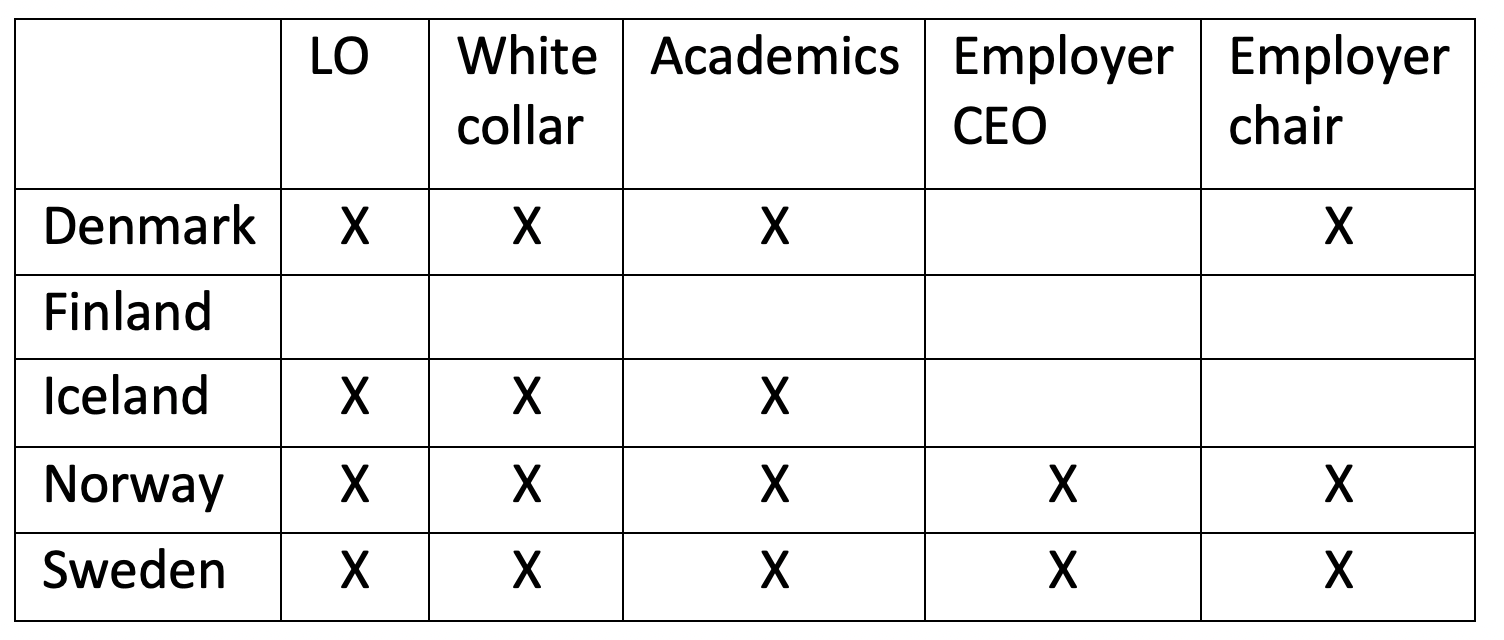 While the other countries have had women in all the trade union positions and also partly on the employers' side, Finland draws a blank. There has never been a woman in one of the three unions we include from 1970 until today – not in Finland FLC, STTK and Akava, nor in the employers' organisation Confederation of Finnish Industries.
The final category we include is heads of state. Changes happen very rarely here compared to the other positions of power. Queen Margrethe of Denmark has held that position for 50 years, Carl Gustaf of Sweden has held it for 49 years. Norway has had two kings during that period – Olav, who died in 1991, and now Harald.
Finland has had presidents serving for long periods of time – Uhro Kekkonen was President for 26 years when he stepped down in 1982. Since then, the country has had four presidents, and Tarja Halonen was the first female one between 2000 and 2012.
Iceland has had four presidents since 1970. Vigdis Finnbogadottir became the world's first democratically elected female head of state in 1980 and held that position for 12 years.
In this edition of NLJ, we write about what Queen Margrethe has meant for gender equality in Denmark, but Vigdis Finnbogadottir and Tarja Halonen have also played important roles in that regard. The three Scandinavian countries have also been linked by the fact that the monarchs are related to each other.  
Here are the main changes in each country this year compared to 8 March 2021: 
DENMARK
Denmark's Prime Minister Mette Frederiksen has held power since 27 June 2019. She has faced her share of problems but the opposition has been further fragmented. The latest development came as five Danish People's Party MPs left to take up independent seats in February. 
But other parties, including Left, Denmark's Liberal Party, have faced leadership challenges. Mette Fredriksen's toughest decision so far in her premiership has been to kill all of the country's minks, which turned out to be illegal. There have been three minor reshuffles, the latest came this year when Minister for Transport Benny Engelbrecht lost parliament's confidence. 
Minister of Defence Trine Bramsen took his portfolio and also that of gender equality. She has signalled that Denmark should not only follow EU demands for women on company boards but also seriously expand the number of companies the new demands cover. 2,400 private companies will be covered by the demand for at least 40% women on boards.
Lisbeth Lintz became President of the Danish Confederation of Professional Associations on 1 January 2022.
FINLAND
Finnish Prime Minister Sanna Marin has held power since 10 December 2019. Her government has seen a few ministers come and go in the past year. On 27 May 2021, Annika Saarikko became Minsiter of Finance. This is one of the most powerful government posts and gets 3 points in our gender equality barometer. 
Since Saariko was replaced as Minister of Culture by a man, Finland only gets 2 extra points. But Li Andersson returned as Minister of Education after her parental leave. This gives Finland one more point and the country increases its total with 3 to 13.
ICELAND
After Iceland's elections on 25 September last year, more than two months passed before a government could be formed. Questions over the validity of results from one constituency meant that it took until 28 November before Prime Minister Katrín Jakobsdóttir could carry on as the leader of the same three-party coalition that had run the country since 2017. 
Certain changes were made – Thórdís Kolbrún Reykfjörd Gylfadóttir became Minister for Foreign Affairs, which gives 2 points, while men took over the justice and education portfolios. Iceland therefore remains unchanged with 19 points.
NORWAY 
There were elections in Norway last year too. Erna Solberg stepped down after eight years as Prime Minister and Jonas Gahr Støre took the helm. This means Norway loses 5 points. The day after 8 March 2021, LO President Hans-Christian Gabrielsen passed away and deputy leader Peggy Hessen Følsvik took the reins.  
In May she was elected his successor. LO leaders get 4 points on the gender equality barometer. There were also some changes to government minister posts, which meant a further 2 points. Finally, Norway got a female head of the central bank, albeit for a limited time. In the end, Norway gets a total of 17 points, 2 more than last year. 
SWEDEN
103 years after women got the right to vote in Sweden, the country got its first female Prime Minister in Magdalena Andersson. Initially, she held the post for only seven hours, because her budget failed to secure a majority in parliament. But she quickly returned. Because she came from the post of Minister for Finance, her new position secures only 2 extra points. But a new female Minister for the Environment means Sweden gets 20 points – an all-time high for the country. 
Errata: When we did the the calculation of the gender equality barometer 2023, we discovered that we had missed that Lisbeth Lintz became President of the Danish Confederation of Professional Associations on 1 January 2022. The total amount of points has because of that been raised to 92.