The borderless Nordic region turned out to be an illusion during the pandemic. It hit the Øresund region, border trade between Sweden and Norway and the citizens of Haparanda and Tornio. But Finland has an eastern border where traffic has ceased because of the pandemic. Today the war in Ukraine has made the situation even worse for Lappeenranta – the city with the closest links with Russia.
The Swedish name for Lappeenranta is 

Villmanstrand

 and is made up of the words 

vildman (

wild man) and (

shore). A wild man is pictured on Lappeenranta's coat of arms
. These days it is said he symbolises the need for strong men on the border. But he could also be a warrior farmer from the 1596 peasant uprising. Or actually a Nordic Viking who has found his way through the lakes in what was Sweden-Finland.
This has also been Sweden's border with the east. But after the 1741 Russo-Swedish war, Sweden lost this part of Finland to Russia. History can have an impact these days.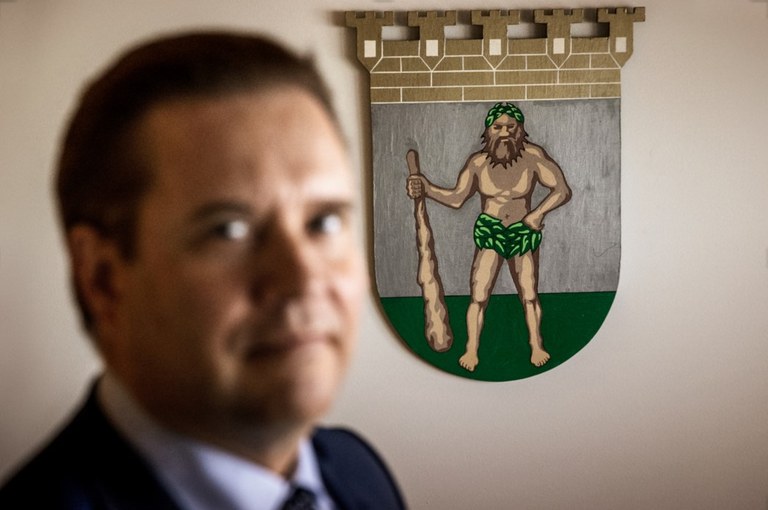 Mayor Kimmo Jarva in front of Villmanstrand's municipal crest.
But we have not come to the Lappeenranta city hall to talk history, we are here to talk about current events. How does the proximity to Russia impact daily life these days?
Mayor Kimmo Jarva presents his international city of Lappeenranta in an accustomed manner. He has hosted some 20 international journalists in the past month. 
1.8 million Russian visitors a year
3,330 Russians live permanently in the city, and even more visit as tourists every day. Jarva talks about the city's population of 73,000 and its many foreign citizens. They have come because of businesses, the university and the proximity to the Russian border.
In a normal year, before the pandemic, Lappeenranta would have 1.8 million Russian visitors – on average 4,000 Russians a day. Now there are perhaps 600 Russian visitors a day. But the sanctions against Russia have cut the number of professional commuters further. 
Tourists come to see the beautiful lakes, some might also want to see the actual border and the border crossings that can appear quite exotic. There are strict rules and warning signs glow yellow along the border, which in some places runs very close to the main road.
Proximity to the border gives special competence
Perhaps the Russian border could be turned into a tourism product, wonders Päivi Pietiläinen who is in charge of Lappeenranta's international relations. The city is Finland's top tourist destination after the capital Helsinki.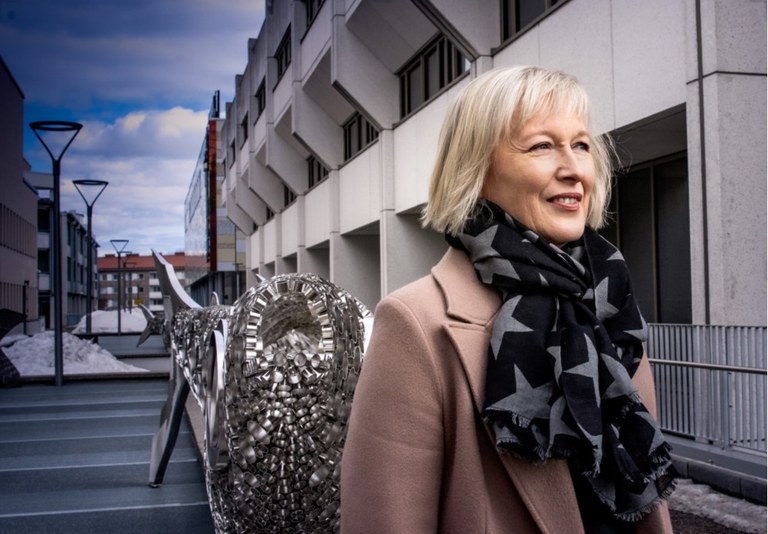 Päivi Pietiläinen is responsible for Villmanstrand's international relations.
"Our proximity to the border has been a global strength and special competence. But right now we are perhaps not marketing the proximity to Russia like we used to," says mayor Kimmo Jarva. Today's situation might even scare some tourists away. 
The border has given life and heft to the city's commerce, says Jarva. A closed border means a marked drop in tourism and income for businesses. The border is our everyday life, he explains. You can hear Russian spoken everywhere in shops and on the street, and it is easy to be served in Russian too. 
Outside the large shopping centre, you could count Russian tourist buses – were there 7 or 17 whose Russian passengers were all shopping in the big shopping centre?
The last train from Russia
Trains running via the Vainikkala border station have stopped. Right now passenger traffic with the Russian Allegro train between St Petersburg and Helsinki is also not running.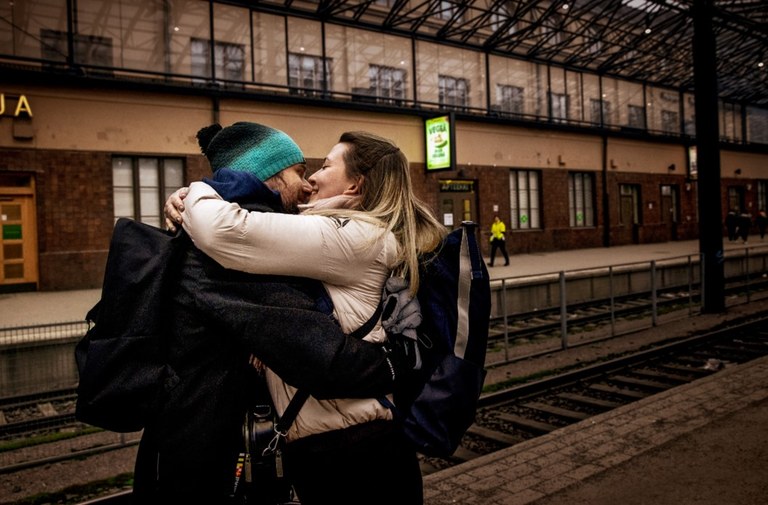 The last Allegro train between St Petersburg and Helsinki ran on 31 March. Anastasia (from St Petersburg) and Tom (from Helsinki) embrace on the platform. Will spend a couple of weeks in Helsinki before returning to St Petersburg by bus.
The route was kept open long enough to allow Finns to return home from Russia. When that need was fulfilled, the train carried a large number of Russians directly to Helsinki Airport from where they flew abroad. 
In normal times many Lappeenranta citizens also have long-term Russian visas. Many retired people have been used to driving across the border to buy cheap petrol in Russia, points out Päivi Pietiläinen. Many also spend a weekend in Vyborg, the closest big city, and some go all the way to St Petersburg.
Civil servants also hold visas and travel to Russia to attend various meetings. Lappeenranta had an information centre in St Petersburg which has now been shut.
Fleeing Ukrainians 
"The war in Ukraine has shocked us all. Aid work has been organised here in Lappeenranta too," says Mayor Kimmo Jarva. Many fleeing Ukrainians have arrived. Families have been offered refuge in private homes. Some of the Ukrainian children have already started going to local schools.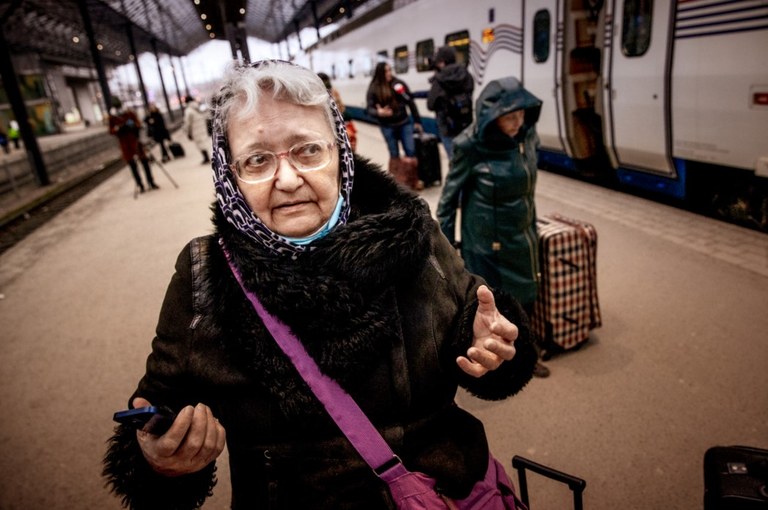 Ludmila says train tickets disappeared in minutes when people learned trains would stop running. She no longer lives in Russia, but has been visiting and is going home to the UK. 
Keeping the trains running lost its purpose after the Russian train company was hit by EU sanctions. All traffic has been stopped for now. VR Group is also reducing Russian freight.  
Canal traffic also stopped
Lappeenranta has contacts with Russia via waterways too. Finnish Lakeland has been linked with Russian lakes and Vyborg in a prestigious project, making it possible to sail from the Gulf of Finland and the Baltic Sea. 
Sailing on the Saimaa canal starts in early April, but this year there was thick ice still towards the end of the month and no icebreaker has dared go down it.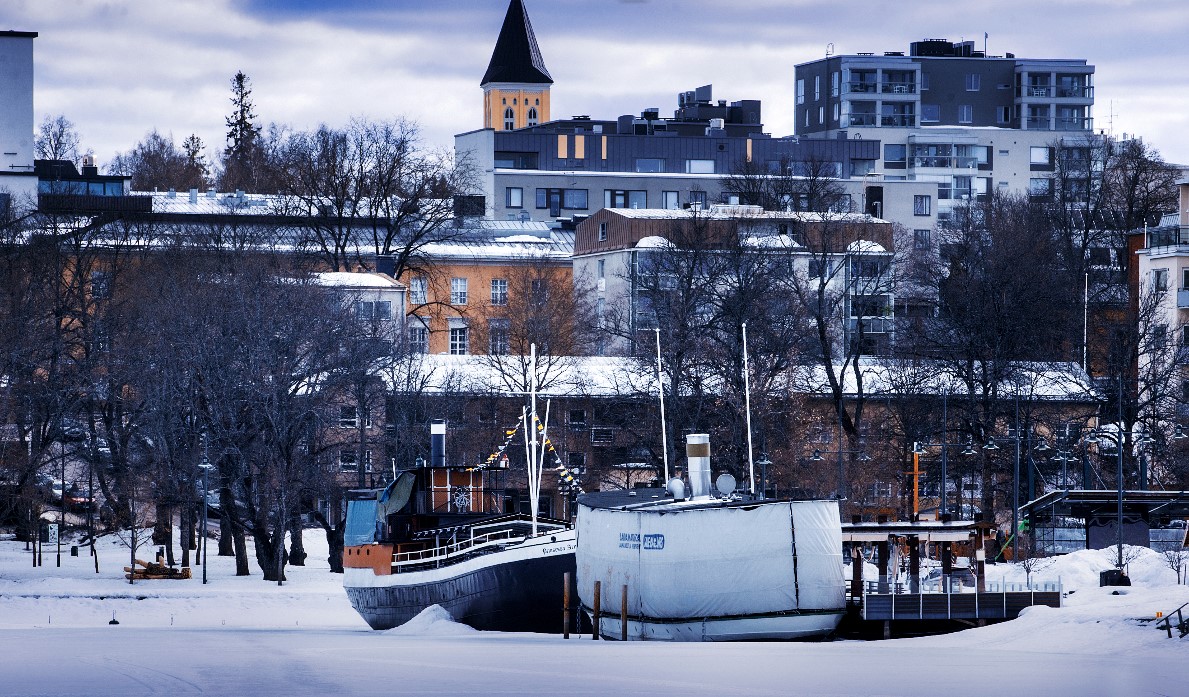 Shipping has been important to Lappeenranta. Today it is mainly restaurant boats that operate here. The link to the Baltic Sea via the Saimaa canal and Russia is considered too risky and therefore closed.
Shipping companies have said it is now far too risky to use the canal. It runs through Russian areas, even though the canal area is rented out to Finland. Traffic has also been cut as a result of rising insurance premiums for freight. Visa-free passenger traffic along the canal might also be facing difficulties this summer.
Border trade hard hit
Before the pandemic, Russian visitors would spend an estimated one million euro a day in the South Karelia region. Some 200 kilometres across the border lies St Petersburg with its more than five million citizens – matching Finland's total population. 
Trade nearly ceased altogether during the pandemic and did not have time to be reestablished before the war in Ukraine started.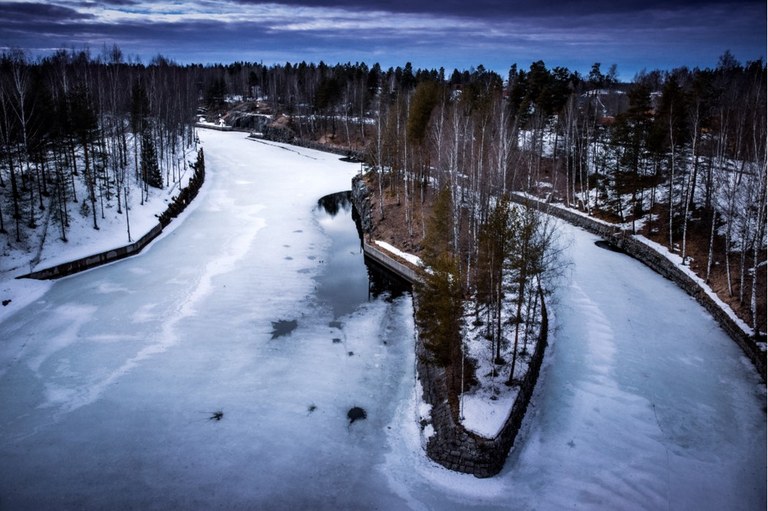 Spring comes late to Lake Saimaa, but here icebreakers have opened a passage. There will be no traffic on the Samaa canal as long as the international sanctions are in place.
Around 800 people are employed thanks to Russian visitors to Lappeenranta's shops. The missing visitors are now having an impact on unemployment numbers. On the other hand, there is a labour shortage in the region, especially within the hospitality trade. 
Small export figures 
Trade between Finland and Russia has long traditions, but in later years some businesses have pulled out because things have become too difficult. And right now most trade has ceased. Trade with Russia has been falling in value for a long time both in South Karelia and nationally in Finland. Since 2014, the fall has been dramatic. 
"Only five percent of Finnish exports go to Russia. In the border regions, the number is slightly higher. Export to Ukraine was actually bigger than to Russia," points out Mika Peltonen. Germany and Sweden are Finland's top export partners.
"The green gold"
Green is the dominating colour in this region – both on the map and in the landscape. The bio-economy is king; forestry, cellulose, cardboard and paper. 
There are large forests on the Russian side and timber from there has been refined in Finland. Päivi Pietiläinen has high hopes for a major Baltic Sea conference to be held in Lappeenranta in September, drawing 600 participants. Energy independence could be a very interesting theme, points out Mayor Kimmo Jarva. The conference will sadly not have a Russian delegation.