Nordic trade unions should work with their colleagues in Germany to make sure the green transition happens in a just way. Together they can be strong enough to get this trade union perspective on the agenda.
"We must look to the future and make sure it is both just and fossil-free," said Finland's Minister of Employment Tuula Haatinen as she opened a digital conference co-hosted by the Council of Nordic Trade Unions NSF, Friedrich-Ebert Foundation and the German Trade Union Confederation DGB.
Ahead of the conference, the three hosts had presented seven reports on the green transition – one for each Nordic country and one for Germany. There was also one overarching report which describes existing challenges and the recommendations trade unions will present to their governments and to society as a whole. 
"If the transition is not just, it will lead to increased populism. The measures must be communicated in a way that does not make workers oppose them," warned Antti Palola, Chairman of the Finnish Confederation of Professionals STTK.   
The main report concluded that both Germany and the Nordics have export-based economies which are dependent on trade. They are facing similar challenges when it comes to high emission sectors like the metal industry, construction, transport, agriculture and fossil fuel production. These are all sectors which are going to be facing major structural change.  
The Nordics and Germany also share many opportunities to create strategies for zero-emission solutions and the technological development of energy sources.   
If you look at the country reports, however, it is also obvious that the countries are different – for instance when it comes to CO2 emissions per citizen and the share of renewables in their energy supplies.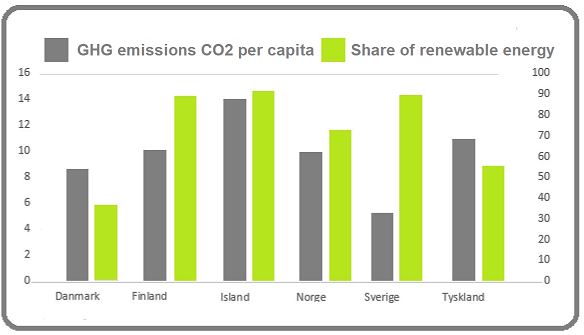 The country reports contain a range of comparable statistics – here are two of them. To the left is millions of tonnes of CO2, to the right is percentages.
The countries with a low grey column (CO2 emissions per capita) and the tallest green column are the most environmentally friendly. But the comparison also shows that this goes beyond energy. Iceland, for instance, has the highest share of reusables yet the largest CO2 emissions per capita.  
The trade union alliance comprises countries within and outside of the EU (as well as Euro and non-Euro countries). All the reports highlight that the EU is the central arena for the climate efforts.
"We are living in a time of historical change in the EU, where we are transitioning from what was originally a coal and steel union to a climate-neutral union," said Jytte Guteland, a Swedish Social Democrat MEP.
"The EU has earmarked 17.5 million Euro for the Just Transition Fund, which is meant to facilitate the transition, but all countries must make sure they have adequate funds," she said.
Reiner Hoffmann from German DGB underlined that one of the most important factors for the transition to succeed is that enough is invested in keeping employment levels high. 
"We need a lot of investment in digitalisation, decarbonisation and training. We also need a good economy, but we must discuss how we can modernise the monetary union criteria," he said. 
To be part of the European Monetary Union right now, a country's public deficit cannot be more than 3% of GDP, and public debts cannot be more than 60% of GDP. 
"The criteria must not be used in order to limit investments," he argued.
In order to achieve such a change of course in Germany and elsewhere in the EU, the voices of trade unions and workers must become stronger. 
Despite the major challenges, the reports also pointed out areas where the green transition can create new jobs. Emissions can be lowered both through investing in new technology which is more energy-efficient or by separating out CO2 and storing it, so-called CCS:
Both Iceland and Norway are working with developing CCS, an industry which can create 30-40,000 jobs in Norway alone by 2050.

A pilot plant opened in Luleå in sparsely populated northern Sweden two years ago. This can produce steel with wheat instead of coal, which changes the emission-heavy recipe of how to create steel which has been dominating since the iron age.

In the summer of 2020 came news that a German company, with the help of German state guarantees, had ordered batteries with a total capacity of 16 GWh (enough to charge up to 300,000 cars) from a factory under construction in Skellefteå, Sweden. 

Denmark's green sector has grown further and has created many jobs. Energy export today makes up nearly 14% of the Danish total.

A Finnish study shows that 20,000 jobs have been created because of the EU's energy efficiency directive, because this increased demands for recycled wood.
Nearly all the country reports mention the potential of the bio- and circular economies for job creation for people with higher education and skills. There are also opportunities for creating jobs in rural areas, since forests and bioeconomy usually can be found there.   
The German and Nordic trade unions have also been able to agree on eight recommendations for how the climate transition should progress. Beyond supporting the Paris agreement and the governments' attempts at making good on their promises, the recommendations include: 
Involving trade unions during structural changes

Making the transition work through increased education and improved work environments

Reducing social insecurity during structural changes

Invest in people and in the future

Creating equal conditions to stop industries with large emissions from flagging out
"We believe the Nordic countries should join forces with Germany and lead the way for a just transition and help us all reach the climate and social sustainability goals at the same time. Our countries have the means to achieve this with their various welfare models. Our economies will become competitive and we will have high employment rates to boot.
"The Nordic Council of Minsters plays an important part in this perspective, not least in light of the prime ministers' vision for making the Nordics the most sustainable and integrated region in the world," says Magnus Gissler, General Secretary of the NFS.