Seaweed has been rediscovered as a resource with a range of uses point out ecopreneurs and researchers. But it is also under threat from human activities.
With their backs bent, snorkelling masks covering their eyes and noses they are standing knee-deep in the water. The participants at this seaweed safari have entered the wet element to study the wild, edible types of seaweed which they have learned about earlier on-shore – including their nutritional content and how to pick, clean and store them. 
Culinary gold gave a flying start
Leading the seaweed safari is Linnéa Sjögren from Catxalot, a seaweed company in Grebbestad on the Swedish west coast around halfway between Gothenburg and Oslo.
"My then partner and I saw there was a gap in the market in Sweden. He is a scuba diver and I have always been interested in food and the sea. That combination was what was needed for us to start our business in 2014."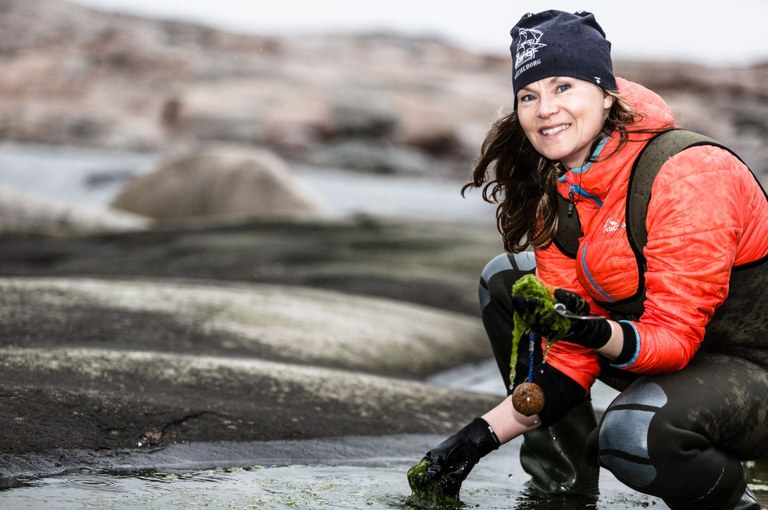 It got off to a flying start. That year, Swedish chef Tommy Myllymäki won gold at the Bocuse d'Or Europé, considered to be the world championships of cooking. On the menu: seaweed from Catxalot. 
Since then the interest in seaweed as a food has grown. It is no longer just master chefs like Myllymäki who want seaweed on their plates. Linnéa Sjögren believes the vegan trend might have helped. 
"The seaweed improves both taste and nutritional content. This is now starting to spread so I am working on a new course called Make food with seaweed. The pandemic means it will have to be online," says the Catxalot owner as she looks out over the marine fields surrounding us.
Seaweed – a paradox
The possibilities of seaweed as food have also caught the eyes of others besides ecopreneurs. The multidisciplinary research project "Marine food resources for new markets" focuses on "seaweed as a resource, possible production processes and market creation for seaweed products and consumers' attitudes to seaweed as a food."  
Researchers and research students from Lund University's social science, natural science and technical faculties are taking part. 
A plate of sea spaghetti?
The project leader, Cecilia Fredriksson, Professor of Ethnology at the Department of Service Management and Service Studies, which is at the university's Helsingborg campus, gave the Nordic Labour Journal some answers to what the project is about.
Why a project about this and why now?
"Because marine resources are trending and because seaweed is an old resource which has not been used for a while. In Sweden, we have been using seaweed in different ways, but we have usually not been eating it. Right now we are facing various sustainability challenges. There is limited space for food production on land, so we need foodstuffs that are lower down in the food chain."
What are you looking at?
"How we can change our habits and what are the conditions needed for consumers and producers to do so. We will apply different perspectives to this, and that is why the project is multidisciplinary." 
What is needed for seaweed to reach a bigger market?
"We have looked at the paradoxes of seaweed. On the one hand, you have its usefulness and the fact that it can be used in different ways, not only as food. On the other hand, we know people might feel wary of having seaweed on their plates.  
"It is also interesting to see how seaweed is being introduced as a foodstuff – it seems to have crossed over to be a more exclusive ingredient. It has also not been easy to find seaweed when we have been looking in shops. It comes in so many different shapes, and then there's the issue of where you put it – among the vegetables or the seafood? Our biotechnicians are also looking at how consumers are interested in consuming seaweed."
Any other results you can share?
"We have already been able to identify some of the obstacles to getting what we call sea spaghetti onto the kitchen table and to integrate the seaweed into traditional meals. There are challenges both with EU regulations and with the Swedish National Food Agency, but we also see resistance from shops and among consumers when new products are being introduced. The aim of this project is therefore to develop new knowledge about marine foodstuff resources that can create value for the consumer." 
At what stage is the project right now?
"We have gathered a lot of material which we are now analysing. And my colleague Filippa Säfwe and I interview entrepreneurs to find out how seaweed becomes innovation, how a resource can be rediscovered. We must also look closer at issues around seafood being perceived both as being healthy and poisonous."
When seaweed is perceived to be dangerous
The seaweed safari participants continue to look for different types near Tjurpanna, a place in Grebbestad that has Linnéa Sjögren has chosen carefully. The water here is moving, which is a prerequisite for a good harvest. Seaweed growing in harbours or near outlets is no good for those who want to harvest it for food.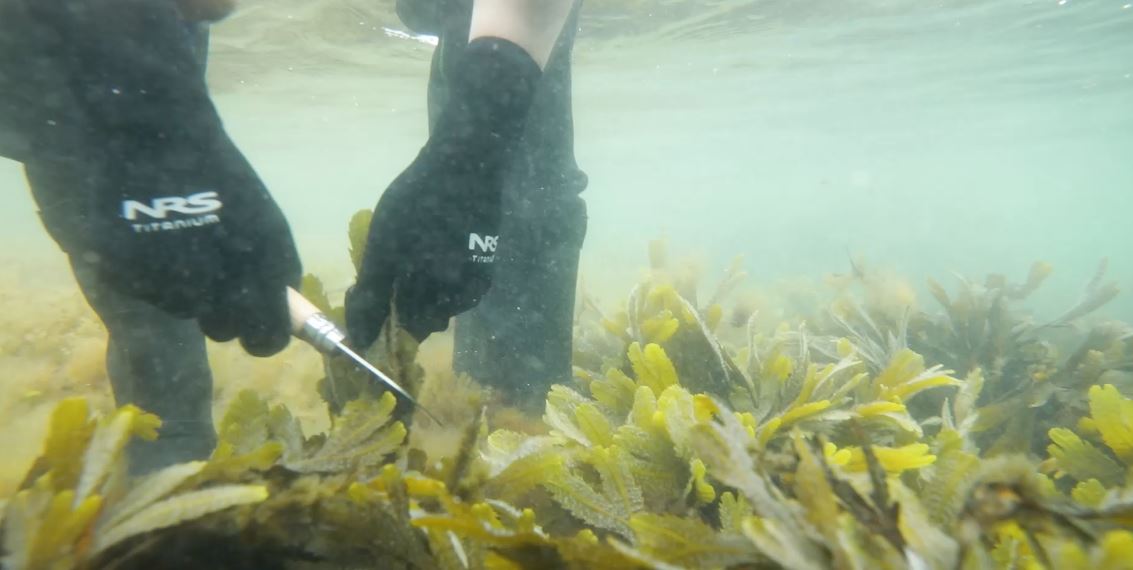 Because even though the types of seaweed that live in salt water in Sweden are neither poisonous nor dangerous, they can gather heavy metals from for instance agriculture, she explains to the safari participants and the Nordic Labour Journal.
"If we ingest heavy metals through the seaweed, our bowels will rid our bodies of them. This is different from heavy metals ingested via shellfish and oily fish species." 
Not enough people know this fact, thinks Linnéa Sjögren and sees it as a challenge for those who, like her, want our seaweed consumption to increase. The danger aspect which sometimes is linked to seaweed must go if the general public is to understand the future potential for this product as a raw material in cooking, she says. 
"To achieve a change like this we need state-funded lab testing of different types of seaweed during different seasons. This is something individual businesses cannot afford. Scientific results must then be spread beyond research reports through popular science if the negative attitudes to seaweed are to be changed."
New trade association
Like for all other business owners, profit is important for ecopreneurs like Linnéa Sjögren too. To make the company profitable, Catxalot had to stop providing seaweed to restaurants and shops since Linnéa Sjögren now runs the company on her own. You need economies of scale in order to make a business like this profitable, she says, pointing out how seaweed farms have a different capacity than seaweed companies gathering wild seaweed by hand. 
"Here in Sweden, we have only three seaweed farms, while Norway has many more. This is because Swedish rules for setting up farms are complicated."
In order to help Swedish authorities with knowledge and experience from their aquaculture business and to protect their own interests, the trade association Svensk vattenbruk och sjömat (Swedish aquaculture and seafood) was established late last year.    
"We are the voice of the trade and can provide views on government reports in order to simplify the rules while also making it easier for those of us who want to operate a sustainable business," says Linnéa Sjögren, who is the association's secretary, before pulling on her wading trousers and walking out to the group in the water. 
With a gentle hand
The group in the water in Grebbestad have now brought out their scissors. Since the seaweed in Sweden is part of the public right of access, it is possible for the safari participants to harvest small quantities to take home. They have already been taught how to do it.
"Catxalot's mission has from the start been to safeguard the regrowth of seaweed through showing how to pick it in a sustainable manner. How much and which part you can take and never to yank a plant off the seabed," says Linnéa Sjögren. 
A seaweed book in the making
Now she gets out of her wading trousers and heads for her desk to write the last paragraphs of her first book about seaweed. Karolina Martinson is contributing with recipes. It is due to be published this autumn by Natur & Kultur. According to the author, one chapter might be controversial since it is about nutritional content linked to results from research.
"I am prepared for a debate. The research I write about in the book might be seen to be far too good to be true," says Linnéa Sjögren and makes her way across the cliffs. 
The book can be read by those who want to learn more about seaweed and who might want to work in a professional capacity with this maritime raw material in order to create their own products or events, and thereby create more jobs.