When it comes to statistics, Denmark is leading the way in the Nordics as well as internationally. Half a century of data-gathering from personal information registers provides detailed statistics about Danes and their working lives.
Denmark has been gathering extensive data on Danish society since the 1970s, including information about the labour market. The data is unusual both in a Nordic and international light, in that it contains a huge amount of microdata – detailed information all the way down to an individual and company level, which researchers are free to use for research and analysis, explains Niels Ploug, director of social statistics at Statistics Denmark. It administers this gold mine of registers and microdata, which Ploug says provides close to endless research opportunities.
Popular research service
Statistics Denmark has shared its collection of microdata with researchers at authorised research institutions for more than 30 years, and many make use of it – not least labour market researchers, says Niels Ploug.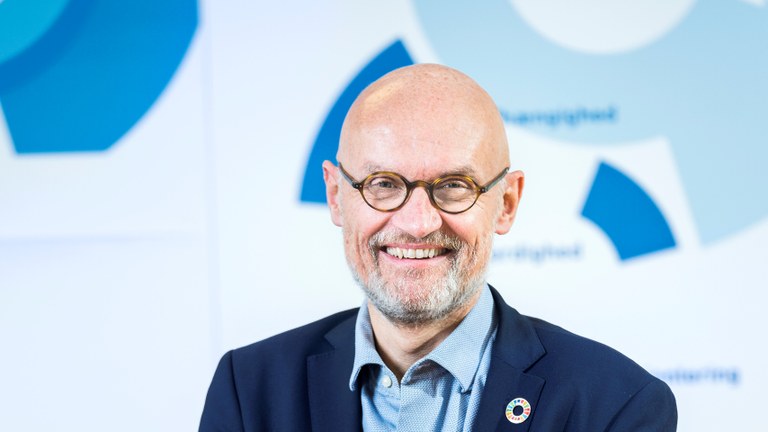 Niels Ploug is the Director of social statistics at Statistics Denmark.
"Thousands of researchers have used our data sets, and our labour market data is amongst the most popular data with researchers."
Statistics Denmark helps an advises researchers on which data they can access, and makes sure all data that is being used is "de-identified", which means they are stripped of personal ID numbers. When data has been found and prepared, researchers can analyse it online, and collect their results. But no data ever leaves Statistics Denmark. Researchers pay for this research service. Data from other sources can be linked to data from Statistics Denmark's registers, for instance data from researchers' own collections or from other authorities' registers. 
Leading the way in the Nordics
Niels Ploug participates in Nordic and international forums of cooperation for statistics agencies, and in his experience Denmark's access to and use of register data is leading the way both internationally and in the Nordic region.
"The other Nordic countries also allow researchers to access microdata, but the Danish system has been up and running longer than any of the others. Denmark leads the way when it comes to detailed statistical register information. No-one else besides us has access to this amount of register data and makes it accessible to researchers," says Niels Ploug. 
Denmark is in the lead because the country has a long history of collecting personal information about all citizens in a central register – Det Centrale Personregister (the central person register), also known as the CPR register. It was set up 50 years ago this year, and contains a unique number for each Danish citizen. That number functions as a key which Statistics Denmark can use to unlock doors between all other registers. This means that data can be combined in any way you wish. It is possible to coordinate nearly any registers in Denmark – from education, labour market and all other areas where citizens interact with the public sector. Some parts of the private sector, for instance banks, also use the CPR number as a register unit.
The authorities have also decided that all citizens should have a digital bank account – a so-called nemkonto– so that all economic transactions between citizens, companies (for instance salaries) and the public sector (for instance welfare benefits) can be registered electronically. All transactions are gathered by the tax authorities in an income register, which Statistics Denmark uses as input for new statistics. 
This means that Statistics Denmark has very detailed register data on a large section of citizens' economic transactions, which are also accessible for researchers and authorities in a form which is in line with Danish and European data protection regulations.
"In this way you can quickly create statistics about conditions in the labour market. We have for instance a monthly statistic for the number of wage earners – an important indicator for economic cycles – and we have also used income data to create a fine-tuned labour market account, which researchers and analysts are also free to use," says Niels Ploug.  
While Statistics Denmark is very strong on register data, the organisation is not equally  good with qualitative data. Statistics Denmark conducts tailored surveys for paying researchers, but nothing more. This means that labour market researchers generally must use other data sources when they want to do research to gain knowledge about how workers and employers themselves experience conditions in the labour market.
"Since we are best at register data, we do not carry out many surveys. So we don't have much data based on subjective considerations about things like Danish workers' own experiences with well-being, work place pressure or stress. And our register data will only show whether workers are on sickness leave," says the director of social statistics. 
Data on development goals available for all
One of the latest offerings from Denmark Statistics is publicly available statistics on how Denmark is doing in terms of the UN sustainable development goals. Niels Ploug has been in charge of this work, and he is clearly proud of the result: 
"As one of the first countries in the world, we are continuously producing and publishing statistics for how the UN sustainable development goals are being met, while also making this available to everyone in a tidy and easy to understand manner on our website. We have also created a partnership with close to 100 representatives from politics, business, the social partners and civil society, where we continuously discuss the way we present information and which development goal statistics are relevant to them."
In 2015, the UN's 193 member states agreed on 17 'Global Goals' for Sustainable Development, or the SDG's. They concern all the countries of the world, and the whole of humanity. They aim to create a sustainable world with less hunger and inequalities, more education and development, and a sustainable use of the planet's resources. Statistics Denmark has set up a global goals platform on its website, where all the global goals are presented. 
If you click on one of them, you are taken to a relevant statistic. By clicking on the global goal about the labour market, global goal number eight – Decent Work and Economic Growth – you find data covering how Denmark is living up to each of the partial goals that the UN has set up for this particular global goal. 
"All countries must report these data to the UN, but rather than simply providing a closed report to the UN, Denmark has chosen to create a real global goal platform where everyone can see how Denmark is doing when it comes to living up to the global goals. This, and the partnership, is something no other statistics bureau in the world has set up, so far."
See the global goals theme here
Openness and user friendliness is written in black and white in Strategy Denmark's goals, and the organisation has, in recent years, invested in presenting the facts in the best possible way to users and the public sector. A few years ago, the organisation got a new top boss, and the new national statistician has a clear agenda for how to present statistics, explains Niels Ploug. 
This can be seen in places like social media, where Statistics Denmark is now active, while data from registers and surveys are presented to the general public through newsletters and press releases. Resources have also been spent on presenting data through creative and easy to understand information graphics. The national statistician also writes his own blog.
Danish data favourites 
Statistics Denmark also offers other services covering the labour market, which other Nordic statistics agencies do not have. These are very popular, according to Niels Ploug. He points to a few favourites: 
The labour market account – AMR
Very precisely follows Danes' movements in the labour market, divided into socioeconomic groups – the employed, students, the unemployed and other people receiving social benefits, children and young people and others outside of the labour market. 
Created with the use of a range of registers, and the population's link to the labour market can be divided in to a number of time periods (year, quarter, month, week or day). This information is made available to government ministries and the social partners, allowing them to create detailed analyses. 
Employment among wage earners  – BFL 
A short term indicator of economic cycles, and one of the most popular services from Statistics Denmark. The indicator illustrates the full-time employment among wage earners based on paid hours. The source is Statistics Denmark's income register based on tax authorities information, which will mainly include wage earners in Danish companies, including people who live abroad. BFL is also used when you need a quick indicator for the total wage earner employment rate. Data runs back to Q1 of 2008.