Finnish restaurateurs are worried about the lack of Finnish-speaking waiters. As a result, more and more restaurants now seek English-speaking staff. Meanwhile, trade unions sound a warning that many young people are leaving the trade because of low pay and a lack of workplace training opportunities.
For some time now it has been normal to address café and restaurant staff in most larger Nordic cities in English, instead of one of the Scandinavian languages.
But in Finland the Finnish language has dominated the service sector for decades. As a rule, all café and restaurant staff have been speaking Finnish. So what is happening right now is remarkable: In more and more restaurants – both foreign-owned and trendy cosmopolitan ones – English is becoming the main spoken language. 
"It is the international atmosphere, it determines everything. It is not just the fact that most of the waiters speak English, it is also the positive attitude which makes the difference," says waiter Victor Fernandez. He works at restaurant Sandro in the Finnish city of Espoo, west of Helsinki.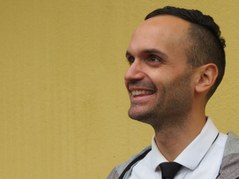 Victor Fernandez was born in Spain but has spent many years living in different European countries; the Czech Republic, Norway and Stockholm. When he recently heard there was a restaurant chain hiring English-speaking staff, he got in touch immediately. 
During the job interview, Victor was told that a lack of Finnish language skills was indeed no obstacle to working for restaurant Sandro, which is part of a restaurant chain focusing on mixing different food cultures while maintaining a strong international focus. 
Many Finns still presume Finnish is what counts everywhere in the country. As a result, some customers find speaking English in a restaurant somewhat uncomfortable. Earlier this autumn a debate in Finnish media focused on whether Finnish or English should be spoken.
Sometimes Victor and his colleagues are asked things like "should you not be able to be served in Finnish in Finland?"
"So we have to calmly explain that this is an international restaurant. You can order in Finnish, but the menu is in English and I speak English. Then I add that I can fetch one of my Finnish-speaking colleagues," says Victor.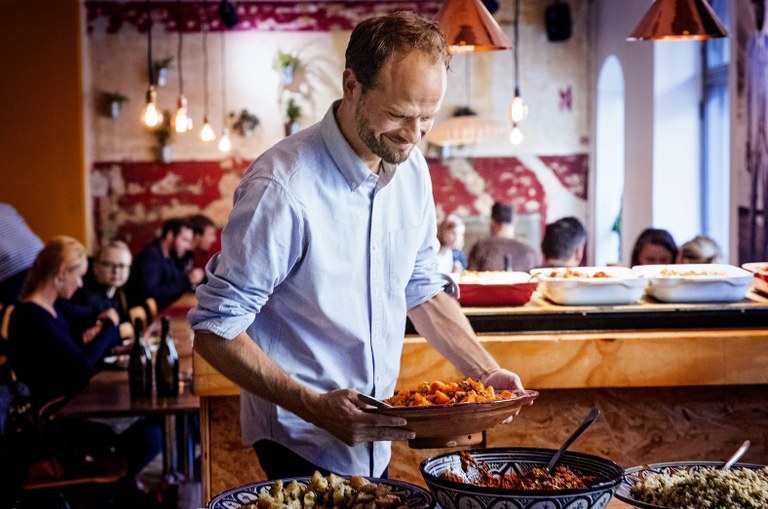 Ville Relander is one of the people behind the idea of restaurants with an international focus in Helsinki. When he helped recruit staff to the first of the restaurants just over two years ago, there was no clear plan for which language they were expected to speak.
"First of all we wanted good people. People who are passionate about what they do, and who want to create good memories for those who visit the restaurant. It just happened to be that most of those we hired were foreign."
The fact that all the restaurant staff should speak either English or Finnish has been clear since the start. Relander considers any other languages to be a bonus for the restaurant's image. 
"Between staff, for the internal communication, we speak English. This has proven to be the most efficient thing to do – speaking a language that everyone understands. And I don't have Finnish as a mother tongue either," says Swedish-speaker Ville Relander.
He reckons more than half of the staff at the six restaurants he runs together with restaurant entrepreneur Richard McCormick do not have Finnish or Swedish as their first language.
Finnish a main language – for now
Some restaurants also have English as a service language partly by coincident, partly by design – to go with the restaurant's image. Other restaurants simply hire anyone who is available.
HOK-Elanto is one of the capital's larger restaurant chains, running around 100 restaurants inside and around Helsinki. In HOK-Elanto's restaurants Finnish is still the norm.
"In our kitchens there are a lot of people with an international background, but on the service side most people speak Finnish. In most of our restaurants you can get by as a waiter even if your Finnish is not entirely perfect," says Satu Vennala, head of human resources for HOK-Elanto's restaurants.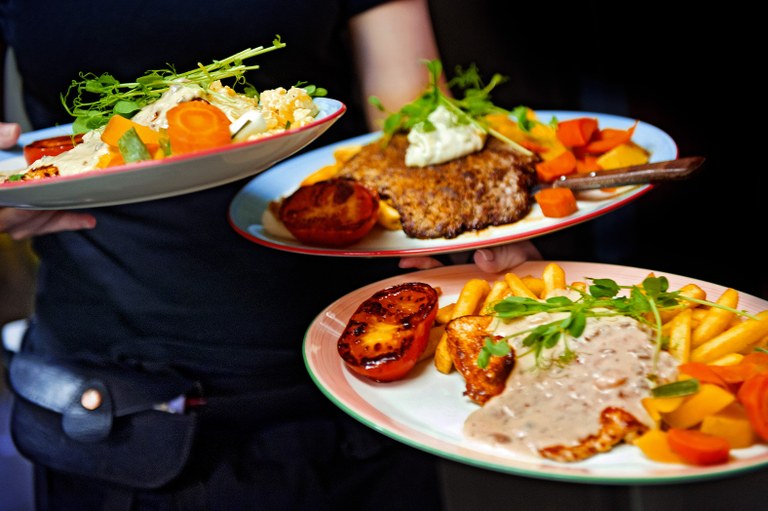 "We see that things are moving in a direction where more and more waiters will have English as their first language. If skilled staff's only so-called handicap is that they don't speak Finnish, of course our trade has to make use of that opportunity," says Vennala.
Vennala adds that in HOK-Elanto's restaurants in the centre of Helsinki, a few waiters use English as their first language with customers. All their restaurants always offer the opportunity to be served in Finnish.
How to get staff to stay?
Both the central organisation for the restaurant trade and the Service Union United PAM have noted that the Finnish language is facing competition from English.
"For several years, many restaurants have struggled to find enough skilled staff – so it makes sense that some restaurants drop the demand that staff should speak perfect Finnish," says Timo Lappi, Managing Director for the Finnish Hospitality Association MaRa. 
At PAM, the largest trade union representing the restaurant trade, they point to the fact that low wages in the trade are partly to blame for the fact that there always seems to be positions that are not being filled, especially in the larger cities.
"Wages in the restaurant trade have been lagging behind the average wage development over the past 20 years. Many young adults are attracted to the trade, but many leave after a few years because wages are so low. The pay does not reflect the tough job that they perform," says Antti Veirto, Research and Labour Secretary at PAM.
The employers' organisation believes education will solve the problem of staff leaving the trade too early.
"For us, one of the most important issues going forward is to make sure people want to stay in the trade for longer. That's why it is important that restaurants and we as an organisation offer continuing education as much as possible to allow people to advance their careers," says Timo Lappi at MaRa. 
But: In Finland, employees do not enjoy the right to workplace training. For now, individual companies decide whether staff are allowed continuing education or not. The service union PAM says the biggest problem is that those with the lowest education are the last to benefit when continuing education is being considered. 
The companies have the say, and statistics show people who already have a higher education end up at the front of the queue when it comes to workplace training.
Waiter Victor Fernandez plans to stay in the trade. First he wants to improve his Finnish, and then he wants more training – which in his case will be paid for by his employer.
"I would like to be a barista, and hope to do a course as soon as possible. Our employer has said that we who work here will be allowed to take courses in order to develop our skills."