Half of Italy's new government ministers are women. What impact will that have on a country with Europe's lowest female employment rate? Prime Minister Matteo Renzi promises change. He wants immediate reforms and to get the economy going. Yet so far the boardroom quota legislation seems to be having the greatest impact on gender equality.
"The situation is uncertain but sparkling, and his style is really new. I am quite optimistic and hopeful about the possibility of this Government to introduce important reforms," says Carla Collicelli, Deputy Director at the prestigious research institute Censis in Rome. 
Paola Profeta, who does research on public policies and gender equality at the Bocconi University in Italy is also optimistic about the possibility of change:
"It sends a strong signal to the country when the number of women in government reaches 50 percent. This has never happened before in Italy. With that Renzi has also fulfilled his earlier promise of having as many women as men in government. It is too early to provide a deeper analysis, but we have great expectations," Paola Profeta tells the Nordic Labour Journal.
Italy is in a deep crisis. The economy is showing signs of recovery for the first time since 2008, yet unemployment is still rising. According to Istat the total unemployment is 12.9 precent, 13.8 among women and 42.4 percent among 15 to 24 year olds. Italy's female employment rate, meanwhile, is 47.1 percent. It varies from 56.6 percent in the north to 30.8 percent in the south. Only Malta is lower down on European statistics.
Matteo Renzi took over as Italian Prime Minister on 24 February after winning the fight for the confidence of his own political party, the Democratic Party (PD). Former Prime Minister Enrico Letta had to step aside because he achieved too little. But Renzi still needs the support from more or less the same politicians as Letta did, across political divides. There have not been fresh elections in Italy. Matteo Renzi is therefore the third Prime Minister after Mario Monty and Enrico Letta who does not carry a mandate from democratic elections, but who has been appointed by President Giorgio Napolitano. Renzi now promises to do something about the electoral system which has created this unstable situation.
Some of the women in government are experienced and well renowned, others not. Carla Collicelli says more women is a positive thing regardless.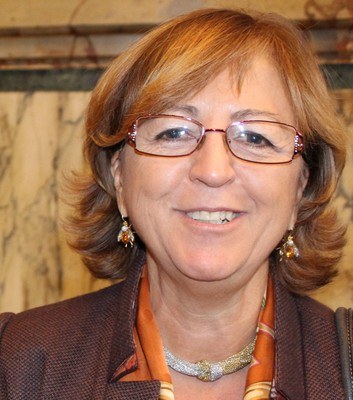 "The effect of women in government can only be a good one. I say that not based on ideology, but based on my experience; even the worst woman is better than a man, at least when it comes to paying attention to transparency and clarity of purpose for the case in question."
She is "very much in favour of the Renzi government". Not just because of the number of women, but because of expectations of deep and real change in Italian society.
Many noticed the direct, personal and casual form Matteo Renzi used during his inaugural speech. But the new style is more fundamental than that, thinks Carla Collicelli and refers to a comment written by Renzi in the publisher Donzelli's re-issue of 'Right and left' - 'Destra e Sinistra', Norberto Bobbio's best seller first published twenty years ago. Here Renzi points out the need for deep and sustainable reforms with strategic goals, she says. He thinks party politics and traditional socio-political divisions are outdated and that it is necessary to meet our modern times in completely new ways. The Social Democrats made great progress some decades ago and the social welfare which has been achieved in Europe is absolutely well worth defending, but times have changed. You cannot make progress by using the same old methods which have had catastrophic consequences for people in Europe. It is time for new, restless social dynamics. 
This alternative thinking is brave and it explains Renzi's direct and personal way of communicating in public debate, says sociologist Carla Collicelli.
"Renzi not only has an innovative, verbal and communicative style. His very serious purpose is to implement deep and real change. We expect to see real change in the distribution of wealth for the middle classes, a growing economy, a reduction in costs related to the political classes and top bureaucrats and of course we expect jobs for young people," says Carla Collicelli.  
Gender quotas most important so far
When Italian radio and TV, RAI, celebrate women with their own seminar, Paola Profeta is an obvious keynote speaker. She has been very visible in the public debate on gender equality in Italy. Eight out of 16 government ministers being  women is a good start, she says.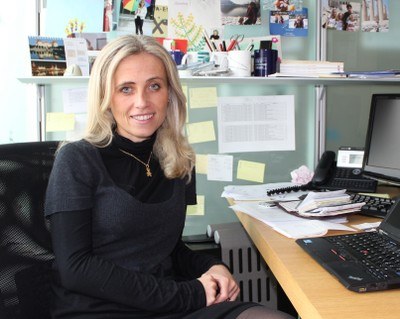 "That's good, but of course it is no magic recipe for getting to grips with the gender gap."
She refers to the World Economic Forum's Global Gender Gap Index, which puts Italy at number 82 out of 132 countries, and at 101 when it comes to economic opportunities for women.
"But it is a good signal which can help break down stereotypes and it has great potential. For now, though, I still think boardroom gender quotas is the most important political change we have seen so far. We need many more reforms in the years to come. The fact that half of our ministers are now women must help."
One of Paola Profeta's areas of research is the consequences of the law on boardroom gender quotas, which was introduced in Italy from 2012. It covers state-owned and listed private companies. The aim is to have at least 20 percent of each sex in boardrooms by 2015, and 33 percent in 2018. Here she shows the development of Italy's boardroom representation from 1934 to 2013.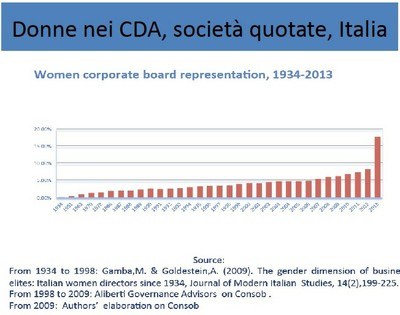 At RAI's women's conference Profeta presents numbers which show how the share of women in boardrooms has more than doubled in the past year. From 8.11 percent on 4 May 2012 to 17.64 precent on 3 February 2014. The number has risen from 207 women in May 2012 to 407 in February 2014. At the same time the total number of board representatives has fallen from 2,552 to 2,307. Another 769 seats are needed to achieve a 33 percent female boardroom representation.
The graph below shows the development in several countries which have introduced boardroom gender quotas.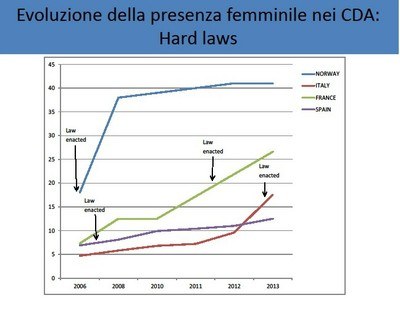 Introducing the legislation was nothing short of a revolution, claims Paola Profeta.
"Yes, I do want to use that word, because this means such a major change that we still can't see the consequences. There are ten thousand companies which must make changes to their board representation, and who must now take women into consideration. It might not be a big revolution, it moves slowly forward, but it is moving forward," she says.