Emigration from the Baltic countries threatens to undermine their entire social structure. Now the Nordic Council of Ministers wants to map the migration and its consequences. NLJ has met two Estonian construction workers who explain why they moved to Finland - and why they don't plan to return.
A bright yet cold sun shines over the building site where a house is fast taking shape. The wind from the ice-covered sea is cold. Jätkäsaari is Helsinki's new district where some 15,000 people are expected to move in over the next ten to fifteen years. 
For Estonian construction workers Hanno Kask (42) and Veikko Strelnikov (44) there will be jobs to be had for years to come.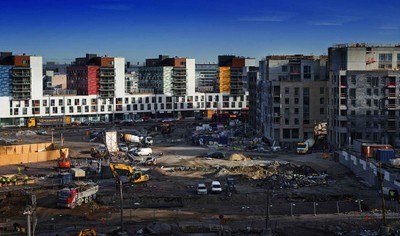 Both moved to Finland because Estonia's labour market has remained sluggish, despite the country's high economic growth. There are jobs, but the mix of low wages and prices on par with the rest of Europe doesn't add up.
"I worked for customer relations at a Tallinn casino and made just over €500 a month, but they cut my salary by 25 percent," says Veikko Strelnikov. The money was not enough. He caught a ferry across the Gulf of Finland, a journey of less than two hours, and today he and his family live in the city of Vantaa.
His children are in school and his wife is learning Finnish to prepare for working life. Estonian is related to Finnish, yet they are two different languages. 
Hanno Kask, whose adult son lives and studies in Estonia, experienced the same thing when living and working in Tartu, Estonia's second city. The salary of 2,000 Estonian kronor - around €130 - was nothing to shout about. Friends told him there was work to be had in Finland.
No going back
Neither plans to move back to Estonia as they don't believe things will improve anytime soon. It is commonly believed that the income level will meet costs within 10 to 15 years, but the financial crisis which started in 2008 seems to have made the gap even bigger.
Nearly a fifth of the population live in poverty on less than €300 a month, and 23 percent just manage to break through the poverty line with the help of social benefits. 
But prices are steadily rising.
"Only spirits and tobacco are cheaper in Estonia, and rent, but minimum wages are around €300-400," says Veikko Strelnikov.
Equal conditions
Their Finnish employer has a contract with construction firm NCC. The hourly wage is around €12, which means their monthly salary is six to seven times higher. The salary is linked to the collective agreement and the benefits are the same as for their Finnish colleagues. But both workers say their job security is higher because the employers value hard-working Estonians.
"They see that Estonians work a bit harder because they don't want to lose their job," says Hanno Kask.
"The Finns take it a bit more easy," adds Veikko Strelnikov.
"And if you're a good worker you get more work and are allowed to work overtime too."
We talk about social dumping, but it doesn't seem to be a talking point among Estonian construction workers. Last December Estonia's Supreme Court decided those employed by Estonian companies while working in Finland have the right to salaries and conditions in line with Finnish collective agreements, which is completely in line with EU rules.
"They made only eight euro when they really should have been paid around twelve according to the agreement," says Hanno Kask, shaking his head.
"It was absolutely correct," he says about the judgement.
Active union
The Finnish Construction Trade Union has also been very active and conducted raids at hundreds of workplaces in recent years to investigate whether salaries and conditions are in line with the collective agreement. It has been a fruitful fight even though abuse is still uncovered.
The building site is next to the terminal where ferries from Estonia land. As we bid farewell - "nägemist" in Estonian - a boat from Estonia's Tallink shipping company has just offloaded its cargo of Estonians on their way to Finland. Many of them are looking for work - and a better life - just like Hanno Kask and Veikko Strelnikov. Immigration to Finland is increasing, especially after the 2006 introduction of the free movement of labour. Officially some 30,000 Estonians live in Finland, but in reality there are many more, as many are weekly commuters. 
On the other side of the gulf there is great concern that the country is about to be emptied of its employable population as Estonians are moving to Finland, Sweden, Norway and Germany - countries where there are jobs.
Nordic project
Now the Nordic Council of Ministers has initiated a project to map how large migration from Estonia, Latvia and Lithuania is, and what its consequences are. The risk is a demographic depletion which could lead to long-term social and economic instability. A rapidly ageing population, widespread poverty, brain drain and a euro crisis is not a good combination. It is estimated Estonia needs 140,000 new workers by 2019, but right now migration is going in only one direction.
"First we aim to sort out existing information, facts and migration figures for the Baltic countries," says Berth Sundström, head of the Council of Ministers' Estonian office.
"Based on that the decision makers can make the necessary decisions."
"What must Estonia, for instance, do to tackle its pretty dire demographic data? The freedom of movement is good, but there's a flip-side to the coin."
Sundström doesn't rule out that Finnish experts will move to Estonia instead, where there is a great need for IT engineers, while Nokia fires thousands in Finland.
How do you make Estonia interesting?
One problem is that the country has made it very difficult for immigrants to settle. 
The project started in early March with a seminar for researchers and decision makers in Tallinn. This also marked the beginning of Sweden's Presidency. Seminars will also be held in Lithuania and Latvia.
Everyone's a winner
Berth Sundström says social dumping was not on the agenda during the first meeting of experts. 
"This is more a problem for the Finnish trade unions, but not for Estonians. They work here for a week to ten days and spend their money in Estonia. They take their purchasing power home with them."
Berth Sundström thinks the Finnish gulf commute should be compared to that of the Öresund region of Sweden and Denmark: it is a win-win situation where both parties are winners in principle.