All architects who are drawing culture houses share a secret dream of creating a new Sydney Opera House, a landmark which can draw people from around the world. Renzo Piano is one of the few who have actually done it.
He belonged to a group which in 1969 was commissioned to draw the new Centre Pompidou in Paris, an all-in-one library, culture house and exhibition hall for art. He had set up an architect's office in London with his British colleague Richard Rogers. They entered the competition which drew 688 entries. Piano and Rogers' entry turned most things inside out - the pipes for ventilation and water were put on the outside of the house and escalators in glass tubes went diagonally across the facade. But it took the jury by storm.
"At that time it was a revolution. This is something completely different," said Renzo Piano at the opening of the new Astrup Fearnley Museum in Oslo.
He is sitting alongside the museum Director Gunnar B Kvaran under a large painting by Dan Colen made from different coloured chewing gum which has been smeared across the canvas.
Art and nature
While the Pompidou Centre looked like an oil platform had just been dumped in the middle of Paris, the inspiration for Piano's latest building is the Louisiana Museum of Modern Art in Denmark. 
"Not architectonically, but in the way art and nature mixes there. I want to create a space where you can experience the sea and art at the same time, he says. 
The Astrup Fearnley Museum has even got its own little beach.
He is also a passionate sailor and designs his own sail boats. That's why the large sail-shaped roof was part of the design from the beginning. 
"Building an art museum is both about creating something very poetic and something very technical. In the south of Europe the light is so strong that a lot of the architecture is about how to protect against that. But here in the north of Europe it is more about how to capture light.
"The worst thing you can do to art is to build a white cube with no windows and turn on the artificial light. That is to kill the art."
Quickly agreed
The fact that the Astrup Fearnley Museum is privately owned explains why there was little noise around the building process, compared to the never-ending debate around how a new Munch museum should look and where in Oslo it should be situated.
"But this is also about the fact that we agreed very quickly on what we wanted to achieve.
"It has been a privilege to work with Renzo Piano and to be part of the process from the first drafts to the finished building," says Gunnar B. Kvaran.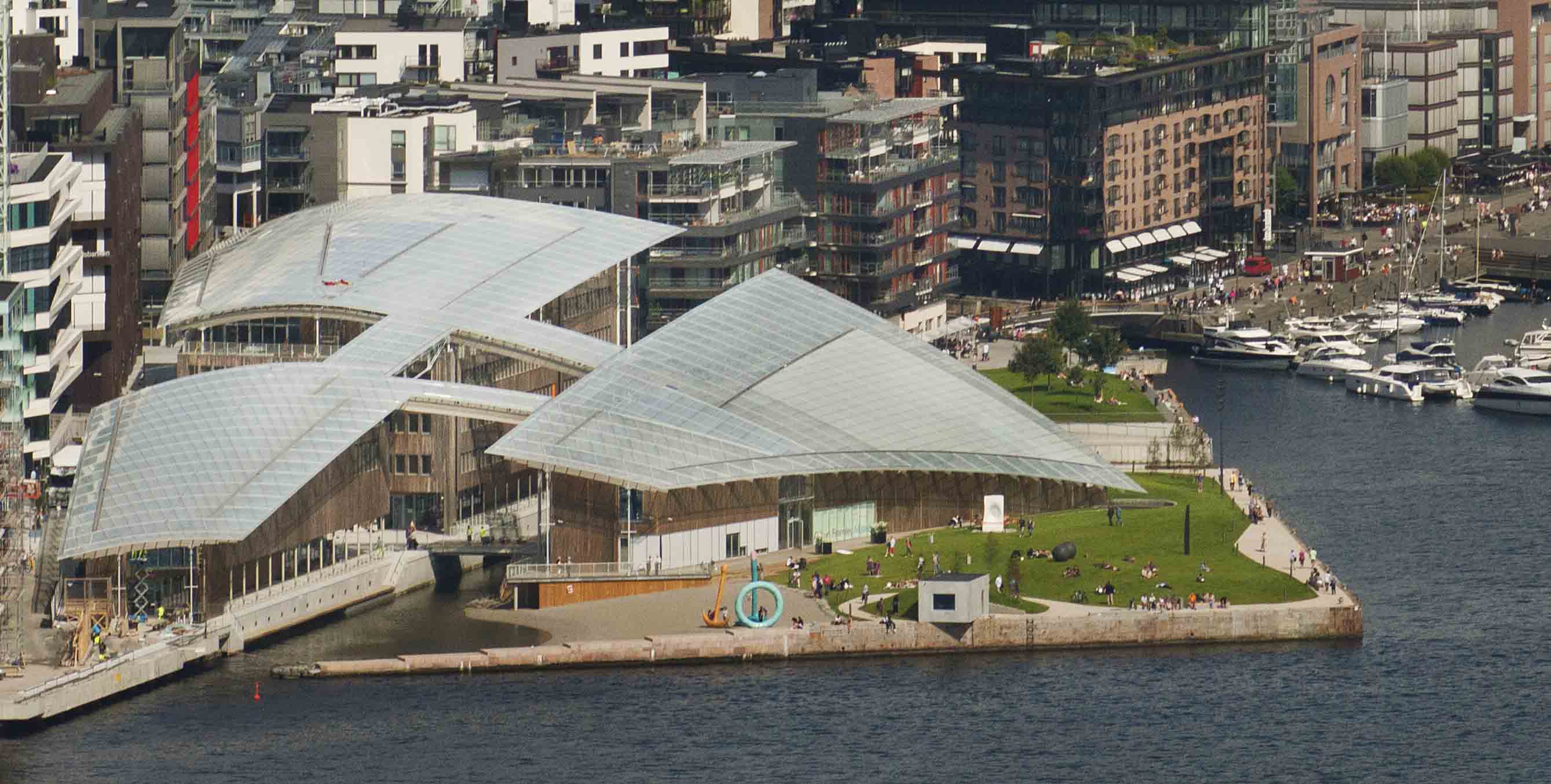 The museum seen from the air, the small beach is also visible.
The new museum sits at the end of Tjuvholmen, a completely new part of Oslo which has been built on a disused container harbour. It is Oslo's most exclusive quarter where flats cost double the Oslo average. The museum employs 12 people and some 50 part time workers, but it has already led to the opening of six galleries in this new part of the city plus an art hotel.
The museum is situated in an elitist quarter. How does that fit in with the social institution you want to create?
"There are two sides to this. Behind us there is quite a bit of architecture which reminds you of other cities' financial districts, but on the other side we have nature and the fjord which is part of our soul and our personality. I believe this meeting between the fjord and art is what will be interesting.
Offensive art
As you enter the museum there is a small sign:
'Some of the exhibits can appear offensive' it says.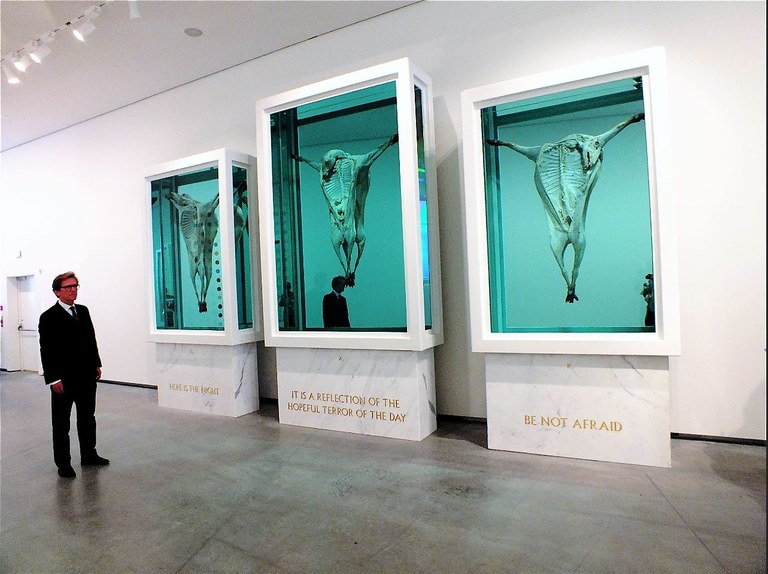 Gunnar B Kvaran with some of the museum's Damien Hirst artwork.
What people react to depends, of course, on their culture. The museum does not aim to represent an entire school of art or a country. The collection is particularly strong on American art from the 1980s, with Jeff Koons' porcelain sculpture of Michael Jackson and his chimpanzee Bubbles plus Damien Hirst's animal corpses in formaldehyde among the most famous artworks. But there is also space for Odd Nerdrum's gigantic painting The Murder of Andreas Baader which he painted in 1977-78.
Few Norwegian paintings have provoked so many reactions as this one. But it was not mainly because Nerdrum depicts the German terrorist as a victim of an execution, when according to German authorities he committed suicide. Art critics and other art lovers were agitated by the fact that Nerdrum painted the scene the way a Caravaggio or Rembrandt would have done it - a total break with modernism and the spirit of the time.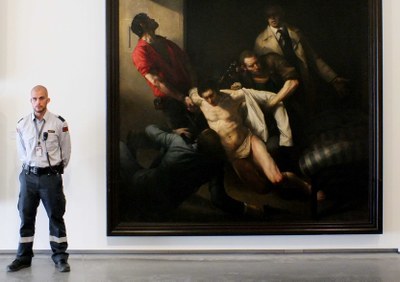 The guard has positioned himself instinctively next to the painting.
Art is always ahead
"What is interesting with art and what makes art art is that it creates something new, so art is always slightly ahead. We need some 'education' to help us reach the place which the artist has reached. That's why we put a lot of resources into communication, so that we have the necessary tools and staff who can both write and talk about the artworks," says Gunnar B Kvaran.
"What's interesting is that there is no geographical centre to contemporary art. We have quite a unique situation. Contemporary art has developed a kind of universal language," says Gunnar B Kvaran.
Artists from China, India and the USA work with the same kind of artistic language. New York is a kind of a melting pot, for sure. But so is Berlin and Beijing, Delhi and many other cities in Europe and on other continents. What we used to talk about as centres of art, first Paris and then New York, is gone, says Gunnar B Kvaran.