Coca-Cola Enterprises Norway started a successful language training programme in the workplace after a visit to another food and drinks company - the dairy group Tine.
"When we visited Tine we were astonished to realise that everybody were speaking Norwegian in the canteen," says Helge Dagsvold, safety officer at Coca-Cola's plant in Lørenskog outside Oslo.
That was not the case at the soft drinks giant, which counts 46 different nationalities among its 1,000-strong staff. 
"We have sections where everyone talks exclusively Punjabi or Vietnamese," says Jan Vidar Hansen, head of the company's local trade union chapter.
"There are people whose Norwegian has deteriorated since they started working here."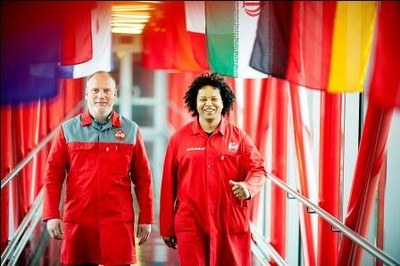 Both Jan Vidar Hansen and Helge Dagsvold had noticed for some time that it was difficult to disseminate information. During debates about working conditions many employees needed to bring along colleagues who knew more Norwegian than them in order to make themselves understood. 
"At Coca-Cola we have been good at attracting labour from many different cultures. We have a prayer room, specialised food in the canteen and offer the chance to work different hours to adapt to different religious festivals. But being able to speak Norwegian is still the most important factor for successful integration," says Jeanette Dejligbjerg, who was given the overall responsibility for the language project.
A real commitment
We realise that Coca-Cola Enterprises takes this commitment seriously when we see how many people she has called in to talk about the project. Apart from the two union representatives she has included Wendy Wyant from the education union AOF, who has the overall responsibility for the language training programme, and Torunn Helsing, who together with one other tutor is responsible for the day-to-day teaching. The course started last October and runs partly during working hours, partly in workers' spare time. So far 64 people are taking part, and no group is larger than eight people. Two of the participants, Nabaraja Gurung from Nepal and Jana Augustinova from the Czech Republic, are also present during the presentation.
"We have tried to divide participants into groups based on their previous language knowledge so that nothing is too easy or too hard, says Wendy Wyant. She has spent a lot of time learning to know the company in order to tailor her teaching to suit its needs.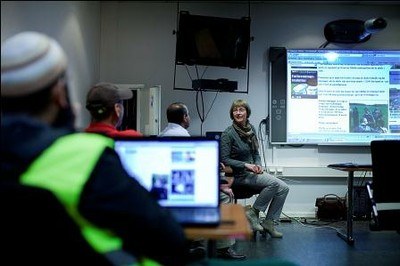 During her courses, Torunn Helsing often use texts from Coca-Cola Enterprises' own intranet, or else she uses examples of relevance to the employees - like how to report sick leave or how to apply for annual leave. Management will often visit the course to talk about health and safety or about other parts of the company. She will then recap what has been said to see how much the students have understood.  
"We need to see the people and the language training as one. It's important to learn things which will be relevant in everyday work. But we also talk about cultural differences and about Coca-Cola's history," says Torunn Helsing.
Urdu as a common language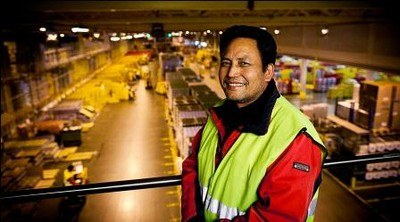 Nabaraja Gurung came to Norway two years ago and works in the warehouse.
"When I arrived in Norway I was given a six month language course. But I thought a lot about my personal economy, that I had to find a job and make money. When I got the job I quit the language course," he says.
"Many of the warehouse workers come from Pakistan. Because I come from Nepal I can understand Urdu and I'm able to talk with them. But Urdu is not the main language for most Pakistanis. They'll talk Punjabi amongst themselves, and I don't understand that at all," says Nabaraja Gurung.
Jana Augustinova is the only Czech employee at Coca-Cola Norway. She has a master degree in food chemistry and came to Norway because her Czech husband plays ice hockey here.
"I've lived in Norway for two and a half years and I'm still not very good at writing Norwegian. There are many Norwegian expressions which I don't understand and it is hard sometimes because many Norwegians speak in a local dialect," she says.
"The language course makes it easier for me to apply for jobs which I am more qualified to do," she says.
Language increasingly important
The lack of language skills is often presented as a safety risk - it is important that all employees can understand each other. Coca-Cola Enterprises is a physically very large company. Passing the bottling plant we see 37,000 full bottles snake their way past on the conveyor belt along the floor. The warehouse has space for 17,000 pallets containing 40 crates each. We look down at the busy traffic with wheel loaders gathering orders for grocery stores and supermarkets onto pallets. In the lab it is quieter. This is where Jana Augustinova works. With her colleague Rashid Chaudary she samples the sugar contents and water quality once every hour.
"There is a constant process of digitalisation in the company, where employees to a larger degree must be able to relate to written information. That's why we have called our courses computer courses and reading and writing development, rather than language courses. We want to raise the employee's current language levels," says Jeanette Dejligbjerg. 

Increased self-confidence
There are also ethnic Norwegian employees who face problems when the company changes: people with dyslexia or people who for other reasons feel insecure when they need to use written communication. Helge Dagsvold and Jan Vidar Hansen have already noticed a better level of the reporting of various incidents after the language courses began. 
"Those who've attended a course are more self-confident and report more mishaps in written form," says Helge Dagsvold.
"Yet it is important to point out that the language courses is not something we have done exclusively in-house here at  Coca-Cola Enterprises. We have received funds to finance this from VOX, the Norwegian Agency for Lifelong Learning, and both the employer's organisation and trade unions are pushing this really hard," says Jan Vidar Hansen.
So far those who've had a chance to attend the courses have been very positive in their feedback.
"It's not our official goal, but maybe one day everyone her at the Coca-Cola canteen will also be talking in Norwegian," says Helge Dagsvold.