The financial crisis hit Iceland harder than any other Nordic country, and it also led to a political earthquake. Wide-spread corruption and nepotism made voters look for new politicians. This has benefited women.
A financial bubble of gigantic proportions grew in Iceland between 2003 and 2008. All stocks on Iceland's stock exchange grew nine-fold and the three largest banks saw capital growth nine times the size of the country's entire GDP as they offered high savings interest to foreign customers.
The three largest banks collapsed in early 2008. The Icelandic crisis was so massive that the country needed help from the International Monetary Fund. The UK and the Netherlands are negotiating compensation from the Icelandic state to cover the losses of those who invested their savings in the Icelandic banks. The so-called Icesave agreement has been passed by Iceland's parliament, the Allting, but President Ólafur Ragnar Grímsson has demanded a referendum on the issue. This will be held on 9 April. The proposal is supported by 57.7 percent and 60 percent of the Icelandic people in two opinion polls.
Political dissatisfaction
The fact that regular Icelanders were left with the bill caused by a small group of financial speculators resulted in 71 percent of the population deciding Icelandic politics were corrupt in May 2009. In a January poll only 52.5 percent of people wanted to say who they'd vote for, with 22 percent saying they would cast blank votes.
After long and noisy demonstrations, the government responsible during the crisis stepped down in February 2009. Jóhanna Sigurðardóttir came in as the country's first ever female prime minister. Half of her government ministers were women. After the election in April that year she formed her second government with 42 percent female ministers.
The crisis also led to women taking the helm at Iceland's three largest banks. Two of them remain today.
Women's list
Before the crisis hit there had been little progress in the work to improve gender equality in Iceland. The country didn't get its first female government minister, Auður Auðuns, until 1971. Female representation in the Allting was below five percent until 1983. Then someone presented a separate women's list in elections from 1983 until 1999. It helped increase the female representation to 35 percent. Vigdís Finnbogadóttir's presidency from 1980 until 1996 was also of great symbolic importance.
After the 2009 elections the Allting had 43 percent female members. That was the highest percentage in the world after Rwanda, Sweden and Cuba.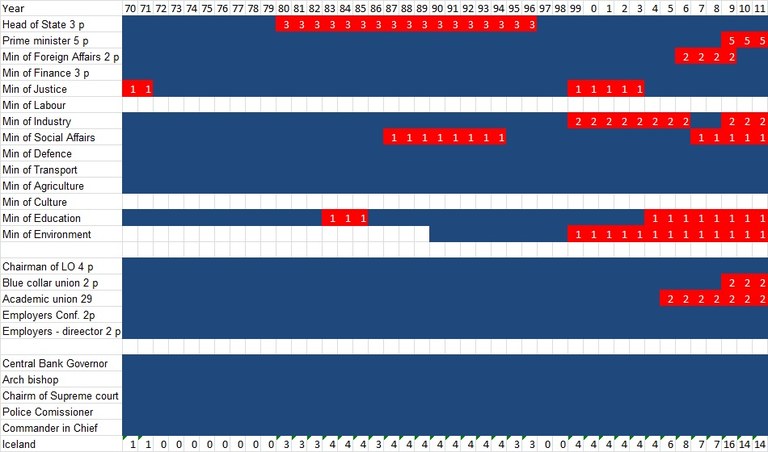 The Icelandic women were slow starters, but the crisis 2008 brought a real change in the gender equality at the top positions.