Few countries have been so mentally prepared for a female prime minister as Denmark. The political TV drama Borgen has been a great success, also in neighbouring countries. It portrays a female prime minister and the power struggle at Christiansborg, the Copenhagen palace which houses parliament, the Prime Minister's office and the supreme court.
Author Hanne-Vibeke Holst's trilogy the Crown Princess, the Regicide and The Queen Sacrifice also examines how hard it can be for women to reach political positions of power. This is not only fiction, as two female party leaders recently discovered. Bodil Kornbek became party leader for the Christian Democrats after the party lost all its parliamentary seats in 2005. They then lost half of their voters in the 2007 elections. She was forced to leave after a trying internal fight.
Lene Espersen became leader for the Conservative People's Party in 2008 and Denmark's first female foreign minister in February 2010. One month later she became the centre of a storm of criticism when she went on a family holiday to Mallorca instead of attending a meeting of the Arctic-5 group in Canada with US Secretary of State Hillary Clinton. On 13 January this year she announced she would be stepping down as party leader.
Didn't build alliances 
"Lene Epsersen didn't use her years in top politics to build alliances. Her networks are weak. Not a single person from the conservative organisation or trustees came to her defence when the criticism started mounting," commented the tabloid Ekstrabladet.
The number of female parliamentarians increased quickly in the 1970s and 80s, but has remained unchanged at 38 percent since 1998. 
"Gender quotas for company boards are regularly debated in Denmark, but gets only limited support and politically the issue is not on the agenda - and will probably not be as long as there is a centre-right government," says the researchers in the Denmark chapter of 'Gender and Power in the Nordic region'.
Pia Kjærsgaard has served the longest
Denmark has still not had a female president of the Confederation of Trade Unions, but Bodil Nyboe Andersen made history in 1995 as one of the world's first female central bank governors - and the only one who went to work on a pushbike.
Pia Kjærsgaard from the Danish People's Party is Denmark's longest serving female parliamentarian. She has been a member for more than 27 years. The  longest serving woman in a position of power by far is Queen Margrethe who has been Danish head of state for more than 40 years.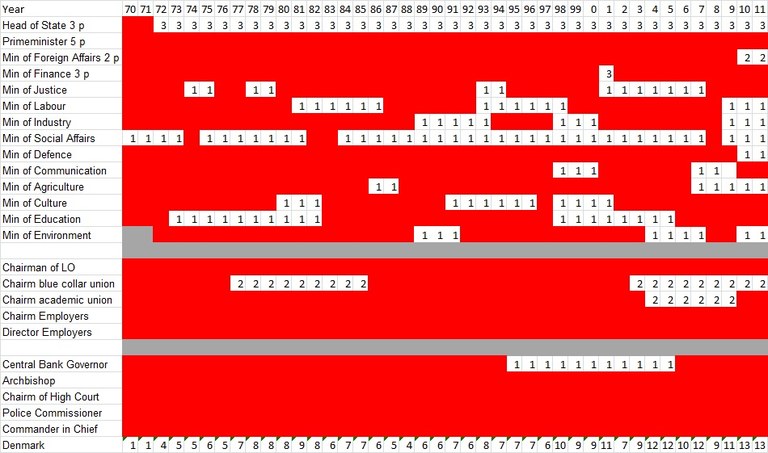 These are the positions women have had in Denmark since 1970 in our survey, with some positions getting more points than other.