The Swedish government has charged the Public Employment Service with procuring coaches worth 1.1bn Kronor (€12m) for the year 2009. This created a fast growing market for coaching. Today 900 businesses have a contract with the employment service. The contracts don't guarantee any customers, however, and the businesses offering coaches must do their own marketing.
A cold and grey day in November, central Stockholm. People hurry through the streets, their collars upturned, hats firmly pulled over their heads, wearing wholly scarves. Outside central Stockholm's job centre the drab image is broken by a table filled with flasks of coffee alongside a welcoming handwritten sign saying: 'Looking for a job. Coffee and a chat with CoachStockholm." Martin and Charlotte are ready to meet jobseekers on their way in to or out of the job centre to tell them what their own company can offer those hunting for a job.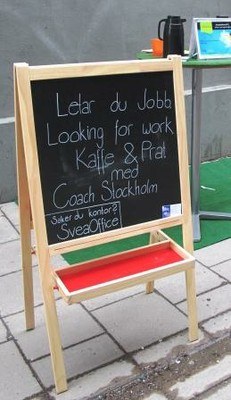 "A lot of companies got involved in the employment service's procurement process, but we haven't seen the level of marketing we had hoped for. We'll just have to do a lot of our own marketing instead," says Martin from CoachStockholm.
The two are outside the job centre a couple of days a week to market their company and to get in touch with the jobseekers. CoachStockholm offers coaching in several languages, including German and Turkish.
"There's always work to be found, but the individual jobseeker needs to define his or her goals and what they want to do and can do. That's the reason we need matching. We are centrally located in Stockholm and we're experts on job seeking in the Stockholm region. We do some of the work job centres could do before, when they had more time," says Martin.
Private contacts important to find a job
The government's decision to use coaching came as a result of the 2008 economic crisis. Unemployment rose sharply and the government was eager to use coaching to help those who'd recently become unemployed get back into work as soon as possible. There are already so-called adaptation agreements - a deal between the parties which also offers coaching to those who have been made redundant - but the employment service's coaches are there to support those who come and go at the job centres. Every year some one million jobs are filled in Sweden, but only 30 percent of them have been advertised. The rest are filled as a result of individuals' initiative and private contacts, yet many lack such contacts and that's where coaching comes in. The government also wanted to get the private sector involved with the employment service's work, and it wanted to offer many smaller companies the chance to sign a deal. 
"It is scientifically proven the shorter the time you've been unemployed, the easier it is to get a job. If you apply measures quickly for those who still are close to the labour market you increase your chance to get them back into work. That was indeed one of the original tasks for the employment service, but in reality we spent most of our time looking after the long-term unemployed," says Jan Åbjörnsson from the employment service.
A small market which suddenly grew
He was head of procurement when the government's regulation came and therefore responsible for putting the government's ambitions into action. The letter from the government was no more than 1.5 pages long and only gave vague instructions.
"The idea was for us to get moving quickly, but we faced a task where we didn't know whether enough businesses would come on board," says Jan Åbjörnsson.  
During spring the Swedish procurers got 1.000 bids and signed deals with more than 900 companies. Because this process took some time, the employment services signed up hundreds of their own coaches. As a result of the government's decision the market for coaches suddenly became hot and expanding. Many of those bidding were smaller companies - exactly as the government had hoped. To get the deal a company must have at least one employee with experience in work coaching. 
Jan Åbjörnsson is aware of the challenges establishing contact between a coach and a jobseeker. The job centre can recommend a coach to fit the jobseeker's profile or background, but often the coaches' profiles are pretty general and common, making a precise match difficult. The coaches must therefore be innovative and find good ways of marketing themselves - which again often leads to coaches being found outside job centres. 
Looking for work is a full-time job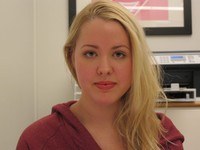 Lotta Broberg, who owns the company Chabro, and nineteen year old Sanna found each other at the job centre in central Stockholm. Chabro is one of the employment service's complimentary players and Sanna graduated from college last summer. She wanted to work in a shop while thinking about what to do, but finding a job like that proved harder than she'd thought.
"Competition is hard and being out of work for a while affects you psychologically. So I chose to contact Lotta who I'd met outside the job centre. She seemed nice and was also interested in young people," says Sanna.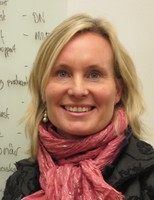 Lotta Broberg's company Chabro has worked with marketing and sales since 2000. When she saw the ad from the employment service she decided to bid. She was keen to be able to help develop people's skills. Job coaching was also close to her own experience in sales and as a career coach. She has a degree in market economics and has been a marketer in the security business and a recruitment officer with Proffice. She works with several subcontractors who also have broad experience from working life.    
"Coaching has one main aim, and that is to get people into work. And the jobseekers themselves should be the ones doing the work. Anybody can get a job, but you need to actively look for one, eight hours a day," says Lotta Broberg.
She explains how her company carries out coaching - which can comprise six to eight meetings over no more than a three months' period. Coaching can be very many things depending on who is doing it, she says. 
"The aim is to help the individual find a goal and then work to achieve it. What makes someone burn with ambition? What does he or she know how to do? What's the dream job like? Often we'll explore the dream to widen the goal," says Lotta Broberg. 
The importance of improving self esteem
These are short, targeted meetings where the first one focuses on finding out what the jobseeker wants and is good at. Finding the will and therefore the driving force is the starting point for successful coaching. That's when you can write that CV and covering letter which will stand out in the piles of applications and clearly set out what the applicant knows and wants. Then it is time to learn where to apply and how to do it - for instance by learning where to find the right internet sites for job seeking and how to create a profile there.
"Then it is important to get into the right mood for job seeking. We want to help them to really get going and we want them to apply for at least 20 jobs a week. If they don't, they won't get any," says Lotta Broberg.
When the jobseeker gets an interview the coach will run through the interview situation with him or her and prepare them for how a recruiter thinks. 
Lotta Broberg has coached a lot of youths and reckons the greatest problem is the lack of a clearly defined goal. Either young people will apply too broadly, being unsure of what they really want, or they remain passive and suffer from low self esteem for example after long periods of no work but a lot of computer gaming. 
"Most need a self esteem 'boast'. This also goes for older jobseekers who've lost their job. They've often suffered under bad employers who have given them low self esteem," says Lotta Broberg.
She has now worked with the employment service for just over a year and her company has coached some 100 people. 70 of them are in some kind of employment today. For each person who finds a job she gets a bonus of 2.000 Kronor (€213). Sanna is one of those who've found a job - she was recently hired by one of Stockholm's most famous jewellery designers. She is over the moon about her new job.
"When I came here I never believed I'd get such a good job. I got great guidance, my self esteem is up and I have learned how to apply for jobs in a more efficient way - for instance by writing a CV and covering letter which match the job I want. I've been lucky too, because it has worked really well with Lotta. Finding the right coach is a bit of a lottery," says Sanna. 
Sanna recommends finding a good coach to her job-seeking friends. It helps you get inspired and happy and to take the job-seeking seriously. Lotta Broberg is no longer standing outside the job centre looking for customers. One year on most of her customers come through recommendations from those who've found a job. Becoming one of the employment service's complimentary players has meant a lot to her.
"It's the most fun thing I've done. I'm helping people move on to new pastures and towards their own goals. It's fantastic," says Lotta Broberg.