Good leadership is crucial for well-being at work thinks NIVA's new director, Birgitta Forsström. NIVA now offers courses in health promoting leadership and diversity leadership in addition to more traditional themes. This is how she wants to create new Nordic arenas for training in the working environment area.
Birgitta Forsström likes building networks, making people link up and creating something new in the meeting between people who need or can offer new knowledge. These are issues she wants to work with as the new director for NIVA, the Nordic Institute for Advanced Training in Occupational Health.
It is the last evening of the 2016 Nordic working environment conference and Birgitta is dancing into the summer night. The music has turned a bit sombre. Slow-slow-quick-quick, slow-slow-quick-quick. Two experts are leading us into the slow rhythms of the tango from the deep Finnish forests. This is not what she is used to, Finnish tango is foreign even though dance is her artistic expression of choice, as she puts it. Her baptism of fire as conference host for some one hundred working environment experts is soon over, and it is time to enjoy the scents of nature on the little island of Viikinsaari, a summer paradise at the end of a 20 minute boat ride from Tampere.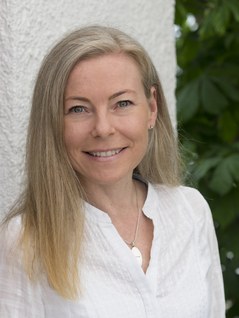 "As a child I danced classical ballet, jazz ballet and modern dance. As an adult I have joined a dance group where we try out dances from different countries. Last year it was the Charleston, this year it's Bollywood. The year before it was African dance. Dance is my hobby and my artistic expression of choice." 
Birgitta Forsström grew up in a Finland-Swedish environment. The culture and mentality is different there.
"Brighter and lighter," she says.
As director for NIVA, she can combine her own expertise in organisation and leadership with her experience as a deputy headmistress and administrative head at a vocational school, with a Nordic perspective. Her aim is to implement the changes which the Nordic Council of Ministers has commissioned her to do, combined with introducing further efforts in new areas. 
"I see myself as the person who can develop NIVA into a modern and dynamic organisation. Before I started there had been an evaluation of NIVA which highlighted possible ways of going forward. Some of the goals include reaching new target groups, modernising the way we communicate and working more in cooperation with working environment research across the Nordic region.   
"That is why I started with establishing cooperation with the state research institutes. We have modernised our communication and our website, and we are running a pilot for a virtual course programme."
She has her own pet projects too which she would like to develop. 
"For the first time in NIVA's history we can offer a course in salutogenic leadership, health promoting leadership. Diversity and inclusion leadership is another course which I have initiated. A developing society demands leadership models which can promote health and inclusion in work and training regardless of functionality, age or ethnicity. This goes for all of our Nordic countries. Our task is to be at the forefront of bringing up new topics for exploration.
"We also offer courses at NIVA for very small groups of people. It is part of our mandate to bring together groups which wouldn't meet otherwise." 
She was approaching 40 and had been working for about ten years at one of Finland's two Swedish language vocational schools, an institution offering bachelor level education. But now she felt ready for new challenges, especially when she saw this Nordic job advertised.
"I think education is one of the most interesting things there is. NIVA combines my interest for education and work. I am very focused on the fact that many struggle in their workplace, and I think a lot about why it is this way. I believe much of it stems from bad leadership. 
"Being a good leader is to bring out the best in all people, to see the individual and help the individual reach their potential. That is the most important, I think, but there are other things too of course – like being a good communicator, being fair, maintaining high moral and ethical standards and never abusing your position of power. Yet perhaps the most important thing of all is the ability to see everyone and help them reach their potential."
As Finland-Swedish Birgitta Forsström feels connected to Swedish culture and she is also the Swedish consul for the Swedish language area where she lives: Hangö, Raseborg and Ingå, on the coast west of Helsinki. This is an honorary title for a person with a good reputation. 
"It feels very good to have been given such a task. I feel honoured. You get a letter from the Swedish king where he also asks all the people around you to support you in this task. There is a consulate with a secretary who takes care of the practical issues. My job is to represent, and that is what I do.
Finland is bi-lingual. School children must learn both Finnish and Swedish. She is part of the population which is born and raised in Finland but who has Swedish as their mother tongue. Finland-Swedes make up five to six percent of the total population. 
Most live in municipalities near Helsinki and along the Finnish south and west coasts.
Although she speaks both Finnish and Swedish, Birgitta Forsström feel more at home with Swedish and has only held jobs in Swedish speaking environments. She feel a bit like a stranger to the Finnish mentality. She searches for the right words so that what she is about to say does not come out wrong. 
"Perhaps you can't put it into words, perhaps because I grew up with Swedish culture along the coast the Finnish culture is different from what I see in my everyday life," she says carefully.
"It strikes me when I arrive in a very Finnish city like Tampere that I am not used to it. It is different to what I am used to."
Then she arrives at what is a sore point for many Finland-Swedes these days. They shut their mouths with a symbolic zip motion. It is wise not to say too much. The scope for what you can say is narrowing.
"It is partly about not always being treated in a friendly way if you speak Finland-Swedish. Many believe it is too expensive to have a Finland-Swedish population demanding services in Swedish, and there is less and less space for Finland-Swedes in Finnish society. Strong forces believe we should not maintain a bi-lingual state administration, or learn Swedish in school. 
"Many want to abolish what they call forced Swedish, and you might encounter unfriendliness if you speak Finland-Swedish when arriving in a Finnish city. I haven't felt like that before, but now I feel it is getting worse. But I don't want to make a big song and dance out of it," she says and laughs a bit.
"The Nordic region feels more welcoming."
Today she is hosting the 13th Nordic conference on the working environment. The Finnish Ministry of Health and Social Affairs is responsible for the programme. The theme is risk-based working environment inspection. It is not her area of expertise, but something she wants to spend more time on going forward:
"I am currently developing a Nordic labour inspection training programme. NIVA has had request for a Nordic course. It has been important to me to find out and understand which issues are relevant on a Nordic level regardless of which country you come from."
You highlight the need for creating good communication, how?
"Perhaps by creating arenas where you can develop new knowledge. The Nordic Council of Ministers wants us to develop online courses, but perhaps one of the important things we do is bringing people together so that new things can be created. 
"I don't believe we should develop into a virtual development centre, but it could complement things and allow us to do pilot programmes – for instance if someone in, say, Korea, were interested in a course focusing on Nordic ways of working. But I believe in the value of human interaction."
What is the most fun with this job?
"The most fun? To work with interesting people who are passionate about the things they know. Intelligent people who want to help develop others, and to see how enthusiastic people are when passing on their knowledge from their fields of expertise. That is the most fun thing. The sad thing? That I am a bit lonely as a boss in a small organisation. In my previous job we had a leader group where we could discuss difficult questions. In this role I feel a little bit lonely. That is the only thing."