The pandemic has challenged both the Nordic cooperation and trust between Nordic citizens. But many of the challenges ahead call for joint action on climate, welfare and sustainable development. The Nordic cooperation is deadly necessary, underlines Finland, which holds the Presidency of the Nordic Council of Ministers in 2021.
"Our cooperation has without doubt been challenged by the pandemic. So the question is: What do we learn from the crisis and how do we move forward? Because we want to move on and we stick to our vision that the Nordics should be the world's most sustainable and integrated region," says Anna Hallberg, Sweden's Minister for Nordic Cooperation.
She opened the seminar "How do we face an increased demand for cooperation and joint solutions in the Nordic region", held in Stockholm on Nordic Day on 23 March. Behind her, a screen with the Nordic flags.
"I am proud, yes even touched by the Nordic cooperation. The Nordic region is home, we are a family. But we have learnt that you can never take a relationship for granted, even though we solved many problems during this period."
The ambition for Nordic cooperation is high. In August 2019 the Nordic ministers for cooperation agreed that the Nordics should become the world's most sustainable and integrated region by 2030. Then the pandemic hit and changed the freedom of movement between the countries overnight.
Suddenly there were police monitoring the borders that had been open to Nordic citizens in Sweden, Denmark, Finland and Norway since 1957 – and since 1965 also Iceland. The common labour marked also has a decades-long history, alongside the close cooperation in the border regions.  
Us and them
Anna Hallberg referred to conversations she had had with people in the border regions, where many – often encouraged by their governments – have been working across country borders. Suddenly they have seen those borders close and their daily security vanish. But they have also felt the unfamiliar division into "us and them". This was echoed by Gunilla Carlsson (Social Democrats), Vice-President of the Swedish delegation to the Nordic Council.
"Solidarity has been put to the test and it is important to deal with this. But we also need to look forward. We need to work for a better dialogue between the countries' governments before important decisions like closing borders are made. 
"A tricker issue which is uncomfortable to address is what has happened to human relations and our trust in each other," she says.
Carlsson talks about Swedish workers forced to wear yellow vests in a neighbouring country and about a Danish driver who was nearly forced off the road driving a Swedish-registered car in Denmark. In a leisure boat harbour in Åland, Swedish boats had to moor at a separate quay because Finnish boat owners did not want them close by.
"How do we create trust so that we can work, live and be together? The crisis shows how very important freedom of movement is. This is perhaps something we have not thought too much about earlier, and we have taken it for granted," says Gunilla Carlsson.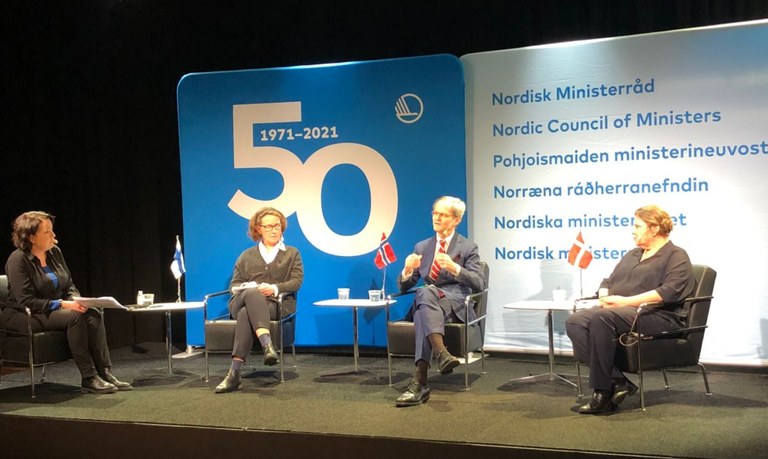 Nordic representatives in Stockholm in conversation: Liisa Talonpoika, Finland; Christian Syse, Norway and Vibeke Rovsing Lauritzen, Denmark.
Yet even though there has been some tough talk and the creation of an us and them between Sweden and the other counties, it is important to look ahead, points out Christian Syse, Norway's Ambassador to Sweden. 
"We all need to take a step back here. Sweden has 11 times the death rate of the other Scandinavian countries. The risk of infection is what has created these situations, but we do see how important the Nordic relationships are. Sweden is for instance Norway's most important trading partner," he says.
Want to see a more honest dialogue
He, along with Finnish Ambassador Liisa Talonpoika and Danish Ambassador Vibeke Rovsing Lauritzen, have been invited to chair a conversation on the Nordic cooperation based on their positions as diplomats in Sweden – a country that has been standing out both through its Corona strategy and a high infection rate. During the pandemic, the Nordic ambassadors have talked together more than ever and have held joint meetings with government ministries and the political leadership.
"We must remember that this is a once in a century event. Sweden is a transit route to Bornholm and many have second homes in southern Sweden. What I hope will come out of this is that next time we will be better coordinated and will talk to each other before making decisions," says Vibeke Rovsing Lauritzen.
"So much has happened that we could not have foreseen. All the countries have tried to protect their own populations. Although I don't want to point any fingers, I wish it could have happened in a smoother manner with a more honest dialogue. 'I will now make a decision that you will not like'," says Liisa Talonpoika.
Christian Syse wants to remind us of everything that has actually worked. The iron ore trains between Kiruna and Narvik have been running, export and import have been flowing through the Gothenburg harbour and Swedish healthcare staff have been able to work in Norway.
The three ambassadors, along with the Minister for Nordic Cooperation Anna Hallberg and Gunilla Carlsson from the Nordic Council of Ministers, are eager to underline the importance of what has worked and to highlight the important issues to be addressed in order to fulfil the vision for 2030.  
A fresh survey also shows that Nordic citizens want to see more Nordic cooperation. One point of order during the Finnish Presidency is creating a sustainable construction sector.
"The construction industry represents one of the biggest climate gas emitters – more than you think if you include homes and society as a whole. This is about changing energy sources and construction materials, amongst other things," says Liisa Talonpoika.  
Circular economy
The idea is to cooperate on various projects and to exchange knowledge and experiences. It is all part of moving towards a circular economy and believing that the Nordic countries, which together make up the world's eleventh largest economy, can be at the forefront of this development. 
Moderator Sharon Jåma wonders whether the thinking around this has been a kind of therapy during and after the crisis?
"We don't need therapy, we need cooperation. When something is taken from you, you miss it and now there is a thirst for cooperation," says Liisa Talonpoika.
"We have close cooperation and we are not starting from zero. We have wonderful days ahead of us," says Christian Syse.